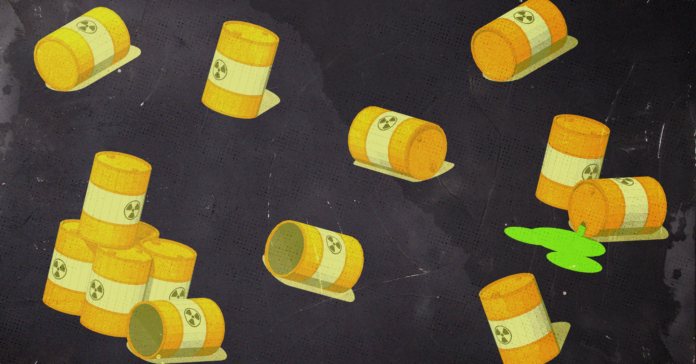 When it comes to disposable waste, the far reaches of West Texas have been viewed as out-of-sight, out-of-mind wastelands by Austin — perfect for dumping what nobody would want within 5 miles of their home.
A proposed spent nuclear fuel storage facility in Andrews County — a West Texas county that borders New Mexico — is garnering political and environmental criticism, most notably, from Gov. Greg Abbott.
Abbott recently sent a letter to the Nuclear Regulatory Commission opposing the facility, which would be constructed by Interim Storage Partners, which already operates a low-level radioactive waste storage site there.
"The proposed ISP facility imperils America's energy security because it would be a prime target for attacks by terrorists, saboteurs, and other enemies," read an excerpt from the letter. "This location could not be worse for storing ultra-hazardous radioactive waste."
The governor said he has already consulted with the Texas Commission of Environmental Quality, the Texas Department of Transportation and the Texas Department of Public Safety and urged the NRC to reject ISP's license application for the project.
The proposed ISP high-level radioactive storage site is a joint venture between Texas-based Waste Control Specialists and Orano USA, a subsidiary of the French company, Orano. WCS was founded by the late controversial Dallas billionaire Harold Simmons. The company was bought by private equity firm J.F. Lehman & Company in 2018.
Abbott's letter warned of the security threats that could result from the storage of spent nuclear fuel along the surface of the Permian Basin, noting that a terrorist attack using a bomb or hijacked aircraft could produce a substantial release of radioactive material "that could travel hundreds of miles on the region's high winds."
"Such an attack would be uniquely catastrophic because, on top of the tragic loss of human life, it would disrupt the country's energy supply by shutting down the world's largest producing oilfield," the letter read.
Interestingly, the Sierra Club and Abbott are speaking from the same page. At least on the surface. Like Abbott, Cyrus Reed, interim director of the Sierra Club's Lone Star Chapter, believes storing spent nuclear fuel is unsafe for the area and makes it a target for terrorist attacks.
"It's just a really dangerous idea to think you're going to take the highly irradiated fuel rods from nuclear power plants from all over the country, ship them, either by rail or truck to West Texas, store them above ground for 40 years or 100 years or 1,000 years," Reed said. "And then eventually put them back on trains and vehicles and ship them to whatever the final disposal site is."
The Sierra Club says the concept of the ISP project is to store the high-level radioactive waste for a finite period at a centralized or consolidated interim site and until a permanent repository is situated. But the environmental group says that supposition is flawed because there are no assurances for a permanent site, and under the Nuclear Waste Policy Act, that it is illegal.
"The Nuclear Waste Policy Act states that a centralized facility can only be constructed if a permanent repository is operating," according to the Nuclear Information and Resource Service, a nonprofit advocating for a nuclear-free and carbon-free environment. "Furthermore, the portion of the law that allows for temporary storage sites has expired, deeming any such facility illegal under existing law." 
The federal government has been seeking a permanent storage site for high-level spent nuclear fuel for decades. The original site chosen was Yucca Mountain in Nevada, but pushback from the state of Nevada and President Barack Obama's withdrawal of a construction license formulated during George W. Bush's administration put the selection of a site in limbo.
The Texas Commission on Environmental Quality also has its reservations about the storage facility.
"Since the U.S. Department of Energy has been unsuccessful in developing a permanent geologic repository, the TCEQ is concerned that a CISF (consolidated interim storage facilities) in Texas will become the permanent solution for dispositioning the nation's spent nuclear fuel," read comments from TCEQ in response to the NRC's Draft Environmental Impact Statement on the proposed storage facility. TCEQ sent those comments to Reform Austin.
The CISF is specially designed to safely secure and store spent nuclear fuel in strong above-ground storage overpacks and hold it until it's transported to a government-designated permanent repository, states the ISP website, also indicating that the DEIS concluded the application submitted for the proposed CISF submitted by ISP wouldn't have noticeable negative effects on the environment or natural resources.
Energy-related chemicals have been financially good to Andrews County. First, it was oil, discovered there in the late 1920s, and then came radioactive waste 80 years later. When the Texas Natural Resources Conservation Commission, the precursor to TCEQ, voted 3-0 in 1998 to deny an application submitted by the state's Texas Low-Level Radioactive Waste Disposal Authority to store low-level radioactive waste in Sierra Blanca (Hudspeth County) — infamously known as the keeper of New York's sewage for several years — Andrews County, 200 miles away, ultimately obliged, seeing an opportunity. And WCS was prepared to build the facility.
The county has experienced yearly financial gains from the low-level radioactive waste dump and welcomes the spent nuclear fuel facility, which would translate into additional revenue.
"We do receive a percentage of their gross income, which has been a tremendous asset for our community," Andrews County Judge Charlie Falcon told Reform Austin.
The county is in the process of completing a brand-new $1.2 million community food pantry from its WCS storage facility operations earnings, "which alleviates that responsibility or that burden off of our taxpayers," he said.
The funds have also allowed the county to upgrade baseball fields, provide an air ambulance service for all county residents and helped construct a high-quality golf course, multi-purpose arena and county jail, he said.
"We've always been a very blessed community," he said. "We've always had the best of the best, which makes it really nice … If we didn't have that WCS as a financial resource, then that is put back on our taxpayers if we proceeded to keep nice amenities."
WCS says its 14,000-acre low-level radioactive waste storage facility has been a significant financial benefactor to Andrews County, employing 110 workers at the site with an annual payroll of approximately $15 million. And as of Dec. 31, 2019, WCS had invested nearly $115,000 annually in charitable and community undertakings as well as more than $300 million in fixed-asset investments according to the company. 
But Abbott's derision with ISP and its proposal to store the high-level radioactive waste in Andrews County could be politically motivated.
"I think it irks a lot of people that this company made a promise to the legislature and now is doing something different," Reed said. "So that may be part of it … I think part of the reason the governor opposes this has nothing to do with the Sierra Club … but has to do with certain oil and gas interests."
He said producers and owners of the land that include mineral rights have been very vocal in their opposition, adding, "they don't want radioactive material that could contaminate oil and gas resources."
Texas oil tycoon and owner and president of Midland Energy, Inc., Syed Javaid Anwar, is a major campaign donor to the governor, contributing more than $1 million to Abbott's campaign account,  according to the Texas Tribune. 
Reform Austin reached out to the Texas Oil and Gas Association for comment but was told by spokesperson Lauren Clay that the trade association does not hold a position on the spent fuel storage facility issue.