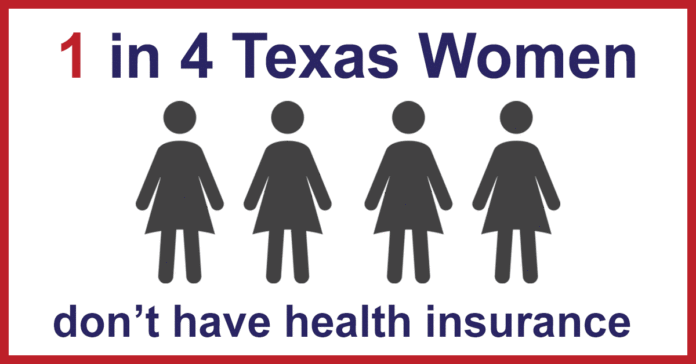 Rep. John Bucy (D-Austin) claimed "One in four Texas women of reproductive age are uninsured, totaling 1.5 million Texas women" while presenting his amendment to expand Medicaid during a House budget debate. Politifact Texas rated this statement as True.
Reform Austin previously reported this statistic in the context of Medicaid expansion, a policy which would insure hundreds of thousands more Texas women. As no state agency tracks the uninsurance rate of Texans let alone for women, the best method of measuring uninsurance rate comes from analyzing Census data. No new analysis on the statewide uninsurance rate for women has been done since 2016. The latest data on the uninsured rate for Texas adults is 25 percent.
While the amendment to expand Medicaid failed to be adopted across party lines (with the exception of Rep. Sarah Davis, R-Houston, who was absent during the record vote but gave a statement saying she would have voted yes), the issue of uninsured women in Texas and their access to care continues to persist. Reform Austin has previously written about the maternal mortality crisis and how insuring more women could curb the high rates of mortality among Texas mothers.
In a recent study of the best and worst states for women, Texas was rated the 10th worst state for women, in part driven by having the highest uninsured rate for women in the country and being ranked the 9th worst state in women's preventive health care. The latter metric is based on data of women aged 21-65 years who were up-to-date on cervical and breast-cancer screenings.
Several proposals to improve the uninsured rate of Texas women have come up this legislative session, ranging from expanding Medicaid maternity coverage to one year postpartum, as recommended by the Maternal Mortality and Morbidity Task Force's report, to gaining more federal funds through Medicaid expansion or the 1115 waiver.
At least two bills in the House to expand coverage to a full year after childbirth have received committee hearings: House Bill 744 by Rep. Toni Rose (D-Dallas) and House Bill 1110 by Rep. Davis.
Though House Republicans seem reluctant to pass Medicaid expansion, Rep. Garnet Coleman's (D-Houston) House Bill 565 received a committee hearing, a first for any Medicaid expansion bill since Rep. John Zerwas' (R-Richmond) "Texas Solution" in 2013. For another pot of federal safety-net funding, the House gave unanimous approval to a budget amendment by Rep. Chris Turner (D-Grand Prairie) directing the state to figure out a transition plan for the 1115 waiver, which is set to dry up in 2021 and 2022.