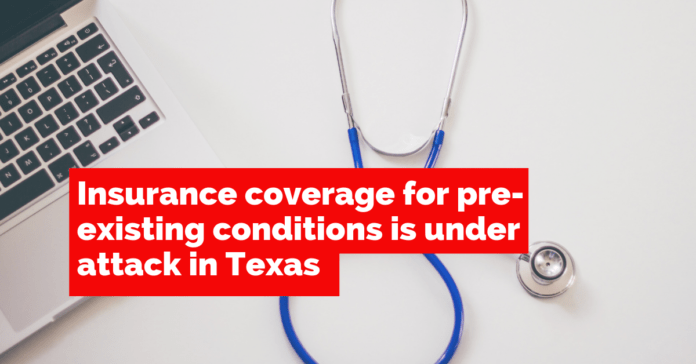 In February of 2018, a federal lawsuit was filed in Texas, challenging the constitutionality of the Affordable Care Act (ACA). Texas v. Azar was filed by Texas and 19 other states, challenging the constitutionality of the ACA, arguing the repeal of individual mandate impacted other parts of the law.
In December, 2018, Judge Reed O'Connor of the U.S. District Court for the Northern District of Texas invalidated the entire ACA, including coverage for pre-existing conditions. The decision was stayed, pending appeal, and as the litigation continues to move through the appellate process, the US Department of Justice has been instructed to agree with the plaintiffs, and join in the effort to invalidate the Affordable Care Act (ACA).
If the courts strike down the Affordable Care Act, millions of Texans will be affected. Without this federal legislation, most enrollees would be unable to afford coverage regardless of whether pre-existing condition protections are in place or not. Other terms and conditions from this lawsuit will prohibit people from getting coverage as well, such as the elimination of the following:
Elimination of annual and lifetime caps on benefits

Access to parents' plan coverage for young adults up to age 26

No pre-existing condition coverage exclusions or medical underwriting

Coverage of prevention and screening benefits with no deductibles or copayments

Required coverage for mental health and addiction treatment services

Federal support for expanded Medicaid eligibility

Premium subsidies for low- and moderate-income individuals and families to purchase coverage and cost sharing subsidies to lower out-of-pocket costs
Pre-existing conditions are considered any disease or ailment for which a person has previously sought medical care. Prior to the ACA, it was extremely difficult for people with any kind of pre-existing conditions to get coverage – and normal, pervasive everyday healthcare issues like pregnancy, diabetes, asthma, and mental health issues were previously permissible grounds to deny coverage.
Pre-existing conditions should not be a barrier for Texans to access the quality healthcare every American deserves. While the litigation proceeds, there are proposals at the state and federal level to ensure greater protection for consumers and taxpayers; and during this legislative session, there are many bills which would expand access, reduce cost, and improve the quality of healthcare in Texas.
Taxpayers have every reason to expect their legislators will protect their access to health insurance in Texas, and should advocate for maintaining the basic protections of the Affordable Care Act.