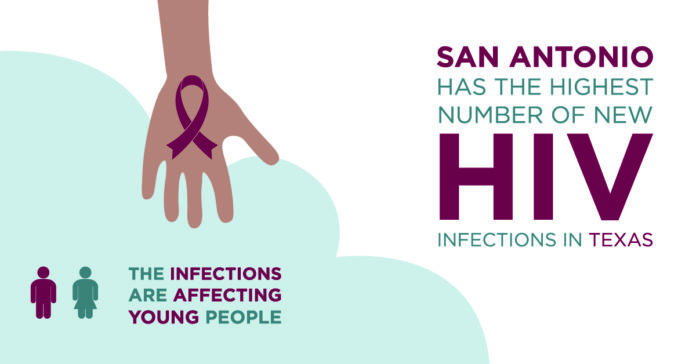 San Antonio HIV cases are on the rise. Last year the city had 338 new diagnoses and the CDC identified it as the largest 'hot spot' in the U.S.
A "hot spot" represents a transmission cluster of cases where the virus in the infected individuals is of a genetically similar strain. This means that the virus is spread within a population before it mutates. 

There are 16 such clusters in Texas. Six of those are in San Antonio, including one that includes 27 confirmed cases of HIV. In 2018, there were 338 new HIV diagnoses in the Alamo City.

Across the U.S., 48 counties account for more than 50 percent of new HIV cases. More than 50 percent of those cases were acquired through male-to-male sexual contact.

In Texas, the counties with the most HIV cases tend to be clustered around large urban areas and points of transit.

The Texas Department of State Health Services found that HIV is common in Cameron and Hidalgo counties — the heart of the Rio Grande Valley.

HIV is also prevalent in Greater Houston and the Dallas-Fort Worth Metroplex. In Central Texas HIV diagnoses follow I-35, with Bell County in the North and Bexar County in the South. 
San Antonio HIV is worse for minority LGBTQ youth
In Bexar County,  infection rates are trending up in young LGBTQ people, especially Hispanic and Black men. The DSHS found that new HIV diagnoses amongst gay Hispanic men increased from 31.7 percent in 2008 to 40.5 percent in 2017.  

Bexar County and San Antonio's various health officials and AIDS organizations have spent the last two years trying to combat the disease.

One of the ways that state agencies and NGOs are working to stop the spread of HIV is by getting the word out about PrEP and PEP.

Pre-Exposure Prophylaxis, or PrEP, is a class of antiretroviral prophylactic drugs that can reduce the risk of catching HIV by 51 percent. Post-Exposure Prophylaxis, or PEP, is a course of antiretroviral drugs taken within 72-hours of being exposed to HIV. 

"PrEP is a critical strategy to addressing HIV," Chris Van Dusen, DHSH's director of media relations. said. Because PrEP is seen as such a key component in controlling the spread of HIV, DSHS is using funds from a one-year federal grant to raise the drug's profile in Texas.

One way the state agency is educating gay men about PrEP is through peer-to-peer technical assistance.

The initiative trains peer counselors to provide "supportive services to promote medication adherence" as well as "answer questions and help troubleshoot issues and concerns," according to DSHS documents.

In 2018, DSHS funded three local health departments and five community-based organizations to provide PrEP services. One organization that provides PrEP counseling is Legacy Community Health in Houston. 
HIV stigma is alive and well
When it comes to counseling one of Legacy's main struggles is fighting the stigma that still surrounds HIV. 

"There have been considerable advancements in prevention, [but] many people are unaware of their options and some forego medical consultation all together because of the stigma," James Lee, Legacy's  Government Relations Manager, said.

Despite decades of education, the ignorance and stigma surrounding HIV remain a daily reality. Oddly, ignorance of HIV is more pronounced in younger generations than in older.

A recent study from the Prevention Access Campaign and the pharmaceutical company Merck found that 41 percent of people 18-22 years old are either not at all informed or somewhat informed about HIV. 

The percentage of people without information about HIV drops to 23 percent for people between the ages of 23 and 36 years-old. However, 30 percent of HIV-negative millennials would prefer not to interact with someone with HIV.

Additionally, One in three Black and Latinx millennials reported avoiding shaking hands, sharing drinks or eating utensils with someone with HIV. And 28 percent of HIV-negative millennials won't hug a person with HIV.

To counteract the negative stigma surrounding HIV the San Antonio AIDS Foundation (SAAF) utilizes patient navigators. These trained counselors help individuals who have opted into HIV testing, learn about PrEP and PEP.

The navigators also connect patients with other San Antonio organizations that can offer medications. Along with information DSHS also provides funding for at least one PrEP prescription for about 1,700 people.

The prescriptions are offered through the existing STD clinic structure in Fort Worth, Houston, and San Antonio, according to Van Dusen. Despite the advances that have been made over the last few years, the fight against HIV is never really over.

In this past legislative session, Legacy helped lobby lawmakers to get HIV-positive patients classified as a protected class for Medicaid beneficiaries, Lee said. 
"During the [next] legislative session, we hope to focus on the issue of coverage for HIV testing and expanding access to testing at large," he added.