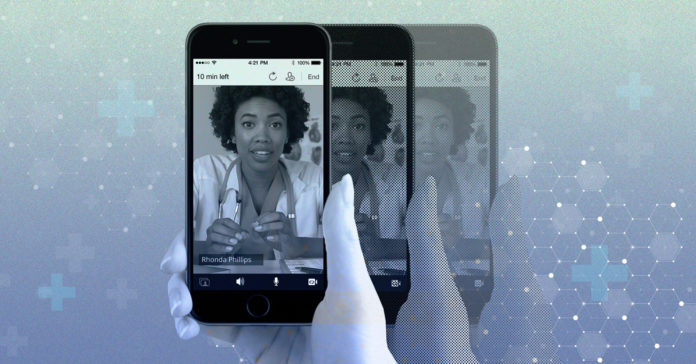 It's becoming less of an uncommon scene in the age of a pandemic: Patients talking to a doctor via iPad, cell phone or desktop computer.
Leaders at Austin Regional Clinic, knowing their patients depend on their accessibility and agility, pivoted their structure at the start of the shutdown, turning 250 primary care physicians into virtual doctor options in just two weeks.
These are just a few ways that telehealth is expanding the reach of possibilities for how medicine can better serve those who need it most, especially in response to the coronavirus. And while the standard and quality of care are of utmost importance still, telehealth is doing a lot to fill in the gaps, not just during the pandemic, but also likely in the future, too.
The Texas Department of Insurance has extended the emergency telehealth order until September. As a result, insurers must cover telehealth at the same rate as in-person appointments. As coronavirus continues and the medical community must figure out what is next for their practices and patients, it seems that telehealth is here to stay. 
"What we've seen from the response with COVID-19, we feel that what could be next is that doctor's practices of the future will be hybrids of in-person and telehealth," said Nora Belcher, executive director of the Texas e-Health Alliance, a longtime legislative advocate for telehealth. "This is a way for doctors to meet patients where they are. With telehealth options, they can say, we are still here, and we can still see you. Medicine has long been an industry where we've encouraged people to go to it instead of it coming to you, whether that's through training patients to go to their primary care physician over an urgent care or emergency room, or the way laws make it nearly impossible to do some things, like get a prescription, just by calling and not actually seeing a doctor. There are — and always will be — some things that telehealth can't replace, but COVID-19 has opened the door to what is possible."
Part of what coronavirus has done for the expansion and development of telehealth in Texas is give people a chance to experience just what telehealth can do — which is often a combination of delight with the ease of being connected to a doctor, comfort from talking to a kind call center rep, or easily being able to pick up a prescription for certain conditions with the aid of a phone or video call.
Belcher said research collected by Texas e-Health Alliance has shown that less than 10% of Texans had tried a telehealth option before the onset of the pandemic.
Why is it so important that Texans understand what telehealth can do? There are a number of reasons such as greater protection for vulnerable or elderly patients, not having to spend time waiting in a doctor's office, and patient retention and loyalty to doctors. But one of the biggest values telehealth brings is for those who live in rural areas of the state.
"Consider a premature baby born in a rural Texas town," Belcher said. "The hospital he or she is born into might not have a great NICU, or a doctor who is equipped or trained to handle special cases that might come from premature birth complications. But mom and dad both have jobs they need to keep in order to pay for the hospital stay. But if the baby is moved to a hospital that has a better NICU, what are they going to do? Health care — without the aid of how telehealth fills in gaps like this — has a compounding negative effect on an already traumatic situation. It keeps health care local, bringing an incredible resource to a rural hospital that may not be a full-time solution, but it also might not be something they need full time. But it is there when they need it."
A recent NPR poll of rural Americans — conducted in partnership with the Robert Wood Johnson Foundation and the Harvard T.H. Chan School of Public Health — found that nearly a quarter of residents have used some kind of telehealth service within the past few years; 14% say they received a diagnosis or treatment from a doctor or other health care professional using email, text messaging, live text chat, a mobile app, or a live video like FaceTime or Skype. And 15% say they have received a diagnosis or treatment from a doctor or other health professional over the phone. 
As of last year, about 3,061,090 Texans (or 11 percent of the state's population) lived in rural areas, according to the U.S. Department of Agriculture's Economic Research Service. 
Telehealth can have financial benefits too: for someone who needs to go to the doctor but is on a high deductible insurance plan, paying out of pocket may not be an option. Texas also has the highest uninsured rate in the country, with about 19 percent of Texans under age 65 without health insurance, and 5 million Texans overall who lack health insurance. Telehealth offers an affordable solution there, too. 
This is about options, Belcher emphasized.
"This gives patients options on how to get care. You can't do everything through telehealth, of course. For some things, you'll still need a lab test, you'll still need to see a specialist for something," Belcher said. "It's a tool that has to solve a problem for the physician, the patient, and the facility. We were not counting on a pandemic to change everything either. We're deeply conflicted: we're thrilled by the response to telehealth and how this is opening doors, but we wouldn't have chosen a pandemic to make it happen. Things are still horrible, and we still have a long way to go, but at the same time, we can still help people. From a policy perspective, the state was ready, too."
Thanks to recent legislation over the last few years, Texas is actually a leader in telehealth.
The state set aside $49.5 million last year to create the Texas Child Mental Health Consortium, which is intended to foster collaboration among health agencies and institutions in Texas.
The consortium oversees the Texas Child Health Access Through Telemedicine program, which provides in-school behavioral and mental telehealth care to at-risk children and teens. And in 2019, Gov. Greg Abbott signed legislation that required telehealth coverage parity in Medicaid managed care.
Even though there is still a long way to go with coronavirus, the idea that there are still ways to help is what telehealth is all about. Belcher recounted how music therapy conducted online — now covered equally through Medicaid — is just another valuable and healing health care service benefitting from the "nimbleness of telehealth."
"We've heard stories about how music therapy, a wonderful treatment for patients suffering from dementia, can be done completely virtually. I love that," Belcher said. "The truth is, even with the technological obstacles to work out with telehealth, it's a virtual world now. The conversation about where we invest will be a different conversation after the pandemic is over."