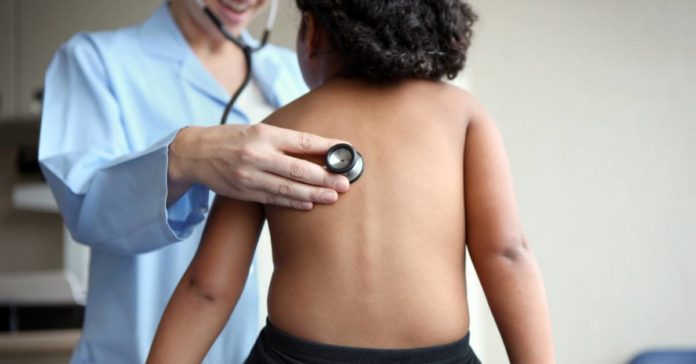 Texas uninsured children number one in the country. The number of uninsured children in Texas is increasing annually, and the state lays claim to the largest number of uninsured children in the country.

About 875,000 of Texas' children don't have health insurance, according to a recently released report from Georgetown University. The study found that 21.5% of all uninsured children in the nation live in Texas.

From 2016-2018 the percentage of uninsured children rose from 10.7 percent in 2017 to about 11.2 percent in 2018.

"This is a very troubling trend," Joan Alker, the study's lead author, said. The trend is "mainly due to the fact that children are losing Medicaid and CHIP coverage," she said.

Alker is the executive director of the Georgetown University Center for Children and Families. She is also a research professor at the McCourt School of Public Policy.

Alker's team drilled down into nationwide data to look at the counties with the highest number of uninsured children. Of the top 10 in the nation, five of those counties are in Texas.

Harris and Dallas counties are numbers one and two, respectively, for the number of uninsured children. About 165,000 — or 12.6 percent — of Harris County's children don't have health insurance.
Texas uninsured children: cities worse than counties
A recent U.S. Census Bureau report looked at uninsured children in metro areas and came to similar conclusions as the Georgetown study did.

Dallas was the metro area with the highest uninsured rate, at 11.7 percent. Approximately 11.6 percent of children in the Houston metro area — which includes multiple counties — don't have health insurance.

The Georgetown study also found that Dallas County has the highest rate of uninsured children, at 15.2 percent. However, the raw population number of 111,000 uninsured children in Dallas doesn't exceed the population of uninsured children in Houston.

Tarrant County rounds out the top five with 62,622 uninsured children. Hidalgo and Bexar are also in the Top 10.

Texas children's lack of health coverage concerns health professionals.
Lanre Falusi, the American Academy of Pediatrics national spokesperson, was one of the health professionals to speak out when the Georgetown report was released.

"For children who are uninsured, I worry about the critical services they are missing out on," Falusi said. She added that she worried "what it will mean for their short- and long-term health."

The number of uninsured children doesn't just refer to children without private health insurance, as children who dropped off the Medicaid rolls also count as uninsured.

In the last three years, the number of children on Texas' Medicaid rolls have shrunk; in July 2019, 2.82 million children were enrolled in Children's Medicaid, down from 2.9 million in July 2018. The July 2018 number was down by about 500,000 from the July 2017 total.

The loss of enrollment might be tied to "overly cumbersome eligibility checks," according to Dr. Laura Guerra-Cardus of the Children's Defense Fund of Texas.

"[Unenrollment] is causing significant confusion for families and throughout the Texas health care system," Guerra-Cardus said. "Many families don't learn their children are uninsured until they show up for an appointment with their health care provider."

Nationwide, more than 4 million children were uninsured in 2018, a number that has increased by more than 400,000 between 2016 and 2018.