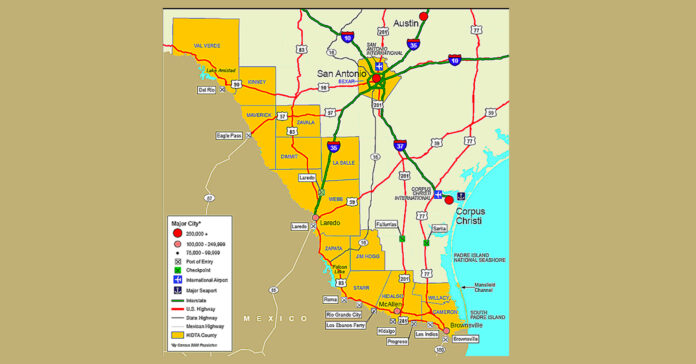 In the last few years, GOP representatives like Gov. Abbott, Sen. Cruz, and Lt. Gov. Patrick have been molding elements of their campaigns and governing around the concept that border cities are dangerous. Although this is not true in most cases (violent crimes in Hidalgo County's largest city are marginal, McAllen recorded only one homicide in 2019 and three in 2020), this has been one of their main standings.
At a news conference on Wednesday, Governor Greg Abbott unveiled his plans for the construction of a Wall on the border with Mexico, echoing one of Trump's most polemic proposals. Lt. Gov Dan Patrick stated that there was an invasion happening at unsafe border communities. Using the same language that the El Paso shooter used in the 2019 massacre. U.S. Representative Veronica Escobar from El Paso condemned this rhetoric on Twitter:
However, as the GOP continues to search for a new mainstream narrative for their governance after failing at the Supreme Court to bring down the Affordable Care Act, now focusing on migration from Mexico,  businesses and citizens of South Texas do not agree with the approach that Republicans are taking. 
After a disastrous year in 2020, where Starr County saw the highest unemployment rate of all Texas (21.7%), the advent of new business options, such as those coming to Rio Grande City Village, is helping local border economies recover. In the midst of the recovery, these businesses are also attempting to capitalize on the opportunities presented by the border for international trade, which has historically been a source of jobs and economic progress for the region. Texas exports nearly $110 billion in goods annually to Mexico and nearly half of these come from Texas small businesses.
Because Mexican customers account for a large portion of McAllen's sales tax revenue, Monica Stewart, who owns property in downtown McAllen, believes that authorities in Washington should focus on improving the legal immigration system to improve how individuals may get across the border more efficiently. 
Adding to the importance of Mexican customers, local officials say that all the fuss that the GOP is making about crime-ridden border communities makes it difficult to recruit people to work or study along the border.
The $250 million "down payment" for the wall announced by Mr. Abbott at the press conference, will come from the state budget, specifically from the Texas Department of Criminal Justice (the same budget that includes the police) who in turn, will transfer the funds to a disaster account and ultimately sent to the Texas Facilities Commission for Abbott's border wall.