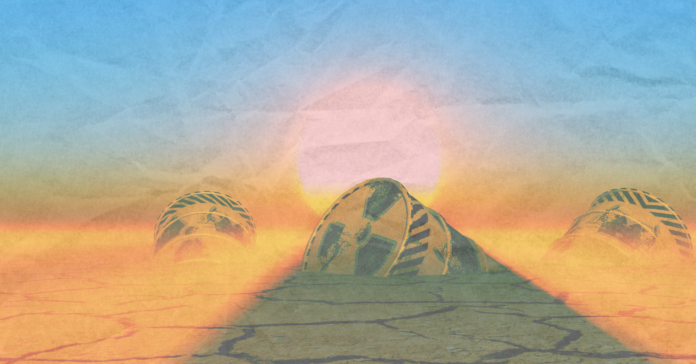 A one-time pet project of a wealthy campaign donor to former Texas Republican Governor Rick Perry is now in the legal crosshairs of current GOP Texas Attorney General Ken Paxton, who is supported by anti-nuclear environmental groups in an unlikely pairing of longtime opponents.
According to an Associated Press story in the Dallas Morning News, Texas Attorney General Ken Paxton says the Supreme Court's landmark ruling on climate change can be used to block a 2021 federal license issued to Waste Control Specialist (WCS), who seek to build a long-debated private facility to store highly radioactive waste in Andrews County near the Texas-New Mexico border in the Midland-Odessa region.
Beyond Nuclear, an advocacy group that opposes nuclear power, is arguing in a separate case that to grant the proposed license for 40 years ignores a set of congressional guidelines in the Nuclear Waste Policy Act, enacted in 1982. The radioactive material is being stored at nuclear power plants around the country, awaiting either temporary or permanent storage. The site in Andrews County, if used as a storage site for some of the nation's most hazardous waste, would be a proposed "interim storage facility" that could operate for 60 years.
WCS is a Dallas based company formerly owned by now-deceased Texas billionaire and Perry gubernatorial political contributor, Harrold Simmons. In 2003, Simmons needed license approval from the Texas Commission on Environmental Quality (TCEQ). Simmons had donated roughly $3 million to conservative politicians in the 2000's including Perry.
According to a 2011 NPR report, the GOP-dominated Texas Legislature took the state-run radioactive waste program and made it a private monopoly for Simmons' company. All three commissioners were Perry appointees, and all three chose to ignore environmental review and public outcry, approving the license without holding a public hearing.
In recent years WCS had pursued making its Andrews facility a place for the temporary storage of high-level nuclear waste while the federal government determined a site for permanent storage. WCS was going through a review by the U.S. Nuclear Regulatory Commission over the feasibility of the temporary storage plan, as reported in 2018 by the Midland Reporter-Telegram
The idea of transporting hazardous nuclear waste to Andrews County through North Texas has drawn scrutiny for years because it would travel by railcar or highway in the Interstate 20 corridor of West Texas, much of which would be routed through the DFW metroplex, a heavily populated area. And it would be precariously located on one of North America's most important sources of groundwater, the Ogallala Aquifer. The Ogallala Aquifer extends through 48 counties of the Texas Panhandle.
Longtime journalist Peter Overby, in writing a report for NPR in 2011, stated that at the time in the early 2000's, Waste Control Specialists was only developing a small facility — one where Texas, one other state and the federal government could bury less hazardous low-level radioactive waste. But soon, a corporate report laid out a new vision: "one-stop shopping" for the entire nation's hazardous, toxic and radioactive waste. It would cover more than 20 square miles.
And according to the conservation nonprofit Sierra Club, in 2009 Andrews County voted 642-639 to use $75 million in taxpayer bond receipts to construct a low-level nuclear waste dump in Andrews. Despite reported ballot problems and a three vote difference, the facility was approved.
WCS was acquired by J.F. Lehman & Co., a New York-based private equity firm in 2021. While Simmons was alive, he was no stranger to political contributions. In 2004 Simmons donated $3 million to a group that aired the Swift Boat attack ads against John Kerry. And in 2008, he contributed $2.87 million to a group that sponsored controversial ads suggesting Barack Obama supported the Weather Underground, per a 2012 Politico report by Anna Palmer.