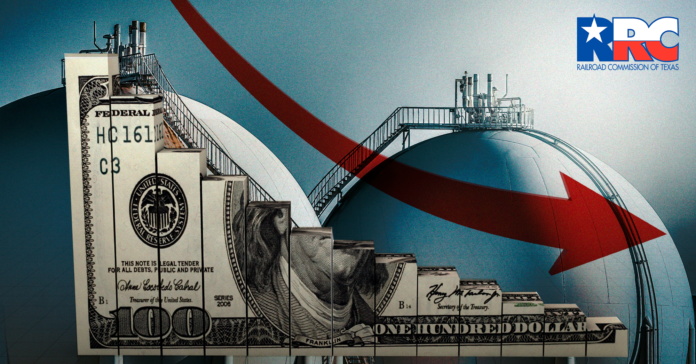 The eyes of the world are on Texas today as the Texas Railroad Commission, the state agency responsible for regulating the oil and gas industry, holds a virtual public hearing on the question of cutting oil production in the state. The last time the commission moved to influence production levels was almost 50 years ago. 
The request comes from Pioneer Natural Resources U.S.A. Inc. and Parsley Energy Inc., which are seeking a 20 percent across-the-board cut, which is equal to about one million barrels a day in Texas. They propose that there be some sort of penalty for those who do not comply, with producers of less than 1,000 barrels a day being exempt.
Pioneer CEO Scott Sheffield said the commission has an obligation to reduce production, noting that most of the billions of dollars his company has invested in the last few years is now considered economic waste.
"I compare this to a crisis in 1986. This is probably worse than 1986. Demand is not going to come roaring back," said Sheffield during his testimony to the commission.
More than 300 companies, individuals and special interests have submitted comments in favor of cutting production. Among the supporters are numerous environmentalists and health advocacy groups, such as the Sierra Club, Public Citizen Texas and Environmental Fund of Texas, which view the proposal as a way to reduce pollution and waste and rein in the practice of flaring to reduce excess gas that can't be sold.
Another group of more than 400 interested parties have written to ask the commission to say no, arguing that economic forces should be allowed to drive supply and demand back into balance.
"When a vocal minority takes a position in favor of artificial market manipulation that is so far removed from the consensus of a vast majority of operators, one can only surmise that their motives and objectives are primarily company specific, as opposed to broadly industry supported," said Marathon Oil President and CEO Lee Tillman during live testimony before the commission. "The best solution to our current crisis is to get the world healthy and back to work while not abandoning the free market principles that have created U.S. energy independence."
Prices have plummeted due to decreased demand caused by coronavirus stay-home orders that have us filling our gas tanks less often. As of Monday, oil was selling at $21.20 a barrel.
Sheffield said they need price stability of $30 a barrel to avoid thousands of layoffs and survive during the pandemic and beyond. He doesn't see that happening without production cuts worldwide.
Pioneer and Parsley think other countries and states will follow Texas' lead if the railroad commission orders the historic cutback they are requesting. They say the order could be evaluated every 30 days and reversed in the event others do not take similar action.
In a deal mediated by the U.S. last week and over the weekend, OPEC plus Russia moved to cut production by 10 percent. That is the largest cut in OPEC history. Industry experts have said that the move that goes into effect on May 1 probably isn't enough.
 "The problem is the demand is still not there," said Latigo Petroleum executive Kirk Edwards of Texas in a New York Times article. "Even with these cuts there will be a tremendous amount of oversupply on the market, and that's why you haven't seen the oil prices dramatically increase."
As of noon, the Texas commission had heard from six speakers, and 50 more were waiting online to present verbal testimony. Just before taking a short recess, chairman Wayne Christian gently urged the commission to be mindful of the time, but said he was willing to stay there until 4 a.m. if necessary.