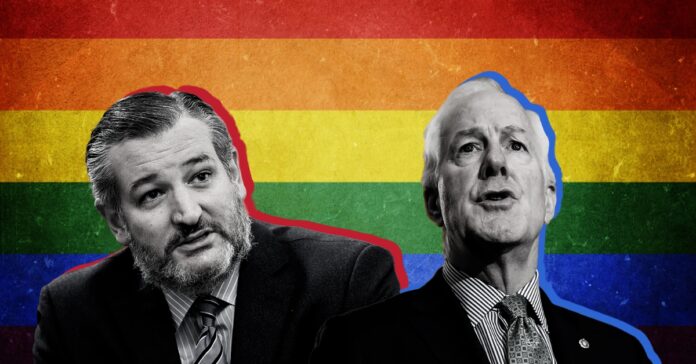 The U.S. Senate gave final passage to a bill legalizing same-sex and interracial marriage on Thursday, despite vocal opposition from the two Texas Republican Senators, Ted Cruz, and John Cornyn, who voted against the law.
But the Senate passed it with bipartisan support from 12 other Republican members who joined with Democrats in the 61-36 vote. The bill, known as the Respect for Marriage Act, requires all states to recognize all legally performed marriages — regardless of the sex or race — of the two parties involved.
It also passed the U.S. House of Representatives by a 258-169 bipartisan vote, with 39 Republicans, including U.S. Rep. Tony Gonzales of San Antonio, joining Democrats in supporting the law.
Cruz and Cornyn objected to the bill, saying it infringed on religious liberty by allowing possible lawsuits against any religious persons or organizations that oppose same-sex marriage. But progressives activists said the law did not go far enough to protect gay marriage and that it gave away concessions for religious groups to secure bipartisan support.
For example, the bill does not require religious organizations to perform same-sex marriages. The Church of Jesus Christ of Latter-day Saints, one of the most zealous opponents of same-sex marriage legislation in the past, backed the new law because it protects that religious freedom.
The legislation ensures same-sex and interracial unions will be protected by federal law — even if the Supreme Court were to make good on its threat to reconsider settled law, such as the case that established those rights, the Obergefell v. Hodges case. The U.S. Supreme Court ruled (5–4) in 2015, creating protection for same-sex marriage and providing equal protection under the U.S. Constitution.
Earlier this year, conservative Supreme Court Justice Clarence Thomas wrote an opinion in the abortion case Dobbs v. Jackson Women's Health Organization that overturned Roe v. Wade (1973), which had previously guaranteed a constitutional right to abortion. And in that opinion, he also wrote what seemed to be a challenge to the Obergefell decision.
And once signed by Biden, it will repeal the 1996 Defense of Marriage Act, which defined marriages for federal benefits as being exclusively between a man and a woman, making the law unenforceable, enshrining the right to same-sex marriages in the U.S.
All state agencies and local governments must now recognize marriages for same-sex couples in Texas, and the legislation also protects family health care plans and wills.
And the new legislation is seen as especially important in Texas, which still has laws banning same-sex marriage and sodomy on the books, and whose GOP leaders have written opposition to same-sex relationships into their party platform.
"Back home in my state of Texas, people are literally scared," U.S. Rep. Sylvia Garcia, a Houston Democrat, said in support of the action ahead of the vote. "Entire families are considering fleeing Texas for fear of what the MAGA GOP will do to their partners and their loved ones."
Republican lawmakers continue to target LGBTQ rights, and plan to do so again in the upcoming legislative session. So Democrats are hopeful the new law will discourage more of such efforts, like Gov. Greg Abbott's "anti-gender-affirming care" bill thought to persecute transgender kids and their families.
As soon as the midterms concluded, state GOP lawmakers introduced 17 bills targeting the LGBTQ+ community. The legislation included bans on LGBTQ+ topics in schools, participation on college athletic teams, and even one that would make drag performances a crime.