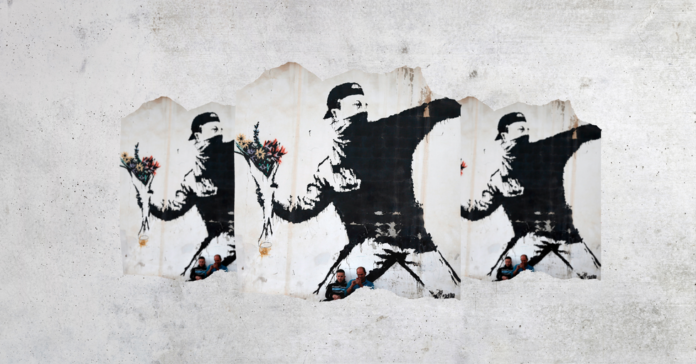 The artwork of the most intriguing living artist will be sneaked in Houston, Dallas, and Austin by the end of the summer, according to the website Banksy Land.
Traveling from city to city, Bansksyland is an unauthorized, immersive experience that will make a quick stop in Texas. It's organized by the arts collective One Thousand Ways. Although the artist is not linked to the event, 80 of his pieces will be featured in the art exhibit.
The exposition in Dallas will take place on June 24th and the location was revealed two weeks before the date. Salvage street work, studio pieces, and never seen before installations were brought to the secret location, the University of Texas at Austin.
Banksy is an elusive artist. There is little information about who he is but it's known he was born in Bristol, England in the seventies, the same place where his first artwork started to appear on the street walls in the morning.
All over the world street art with its usual style has appeared all over the world. His symbolic and conceptual street art portrays his contempt for capitalism, greed, and extreme migration policies.
Banksy's eccentric and cynical critique of the art industry has also made him a current headline. He is famous for illegally placing his subversive artwork inside worldwide famous art galleries and museums. His most known prank is the shred of his art piece "Girl with a balloon" just after the last beater made the final offer in an auction.
Many times the media have tried to unmask Banksy's identity. Year after year, new names have been added to the long list of persons that have denied being Banksy to the skeptical audiences.
If you are a Banksy fan, you have to hurry and buy the last tickets for Banksyland for the expositions in Dallas and Austin. In Houston, the tickets are already sold out.