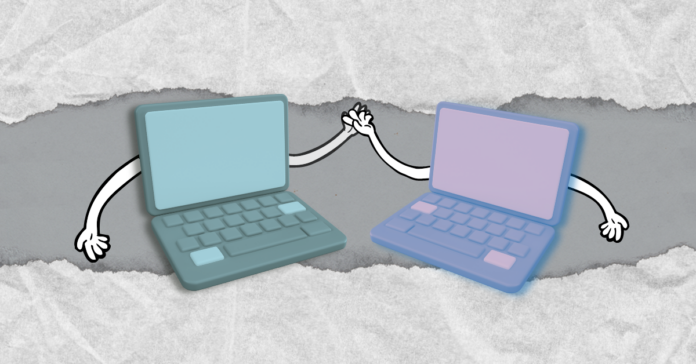 As companies embraced new technologies and focused on workplace culture in the last decade, the one thing that no one planned for was the Covid-19 pandemic — and its aftermath – may have dramatically changed the way some workers interact with each other.
Suddenly, the business landscape changed, forcing companies that had not kept up with technological investment to do so quickly. For many, the laptops and cloud-based infrastructure existed, but in non-tech sector companies, the capacity of new technologies was largely unleveraged. Business travel was reduced significantly in the first year of the pandemic, and industry events of all types have had to adjust how they carry them out.
But once large companies began to send their workers home to work, the shift was underway, revolutionizing the way businesses viewed operations, staffing, recruiting, and culture.
However, for some workers, the shift was frustrating, as older workers were forced to learn new communication techniques utilizing various chat platforms, as face-to-face or conference room meetings were no longer an option.
But something surprising happened — younger workers, many of whom were single and had relied on their work friendships and relationships with co-workers — suddenly felt cut off, as workplace camaraderie was no longer available.
In a 2022 Gallup poll, just 20 percent of U.S. workers said they still had a "best friend" at work, said Gallup workplace and well-being researcher Jim Harter. And the percentage under age 35 dropped by 3 points compared to pre-pandemic 2019, to 21% from 24%, Harter added. Yet there was no such change for workers 35 and older.
"We're seeing in the data that younger people in general are feeling more disconnected from their workplaces," Harter added. "You can attribute some of that potentially to remote work. If they're less connected to their workplace, they have fewer opportunities to connect with other colleagues and to develop those kinds of friendships that they might have had in the past."
And Gallup found a strong link between workers with best friends on the job and profitability, safety, inventory control, and retention, and those employees who have a 'bestie' at work are significantly more likely to engage customers, internal resources, and be more efficient.
Those workers with close relationships are also more likely to be inclined to innovate and share ideas, according to the research, and are more likely to support a safe workplace, which means fewer accidents.
In Texas, many large businesses, including international companies, had enormous office spaces in sprawling industrial office parks that they suddenly had no use for. Some headquarters had just been built out in the previous few years before the pandemic, but now are largely empty, if they even still maintain the space.
One such company is Bureau Veritas, whose North American headquarters in Houston moved to a larger location in 2016.
David Vigil, Senior Director of the Certification division of the company, said this week that while there are some benefits for some workers as well as employers, he has seen some workers struggle with the changes.
"It's been a journey," Vigil said. On the remote working model, he added "It's a good fit for what we do." He said while it has opened up the talent company, allowing them to hire virtual employees rather than recruiting only from the Houston job market, it has some downsides.
"I've seen people struggle with it," he continued, adding that younger workers who are single and don't live in neighborhoods where social activity is easy to come by seem to have a hard time trying to fill a gap in their social lives caused by a lack of personal work relationships. "But for employees who are parents it's been great, they love the flexibility," he concluded.
In addition, many businesses have realized the enormous cost reduction benefits of not having a large corporate footprint, from both a logistical and expenditure perspective.
Even behemoth companies with a presence in Texas like Walmart announced Thursday that it is offering its remote Austin-based employees office space to work from in Dallas if they want to continue to work for the company.
This follows continued efforts by the company to return to on-site work environments as it continues to eliminate its remote-only tech hubs and downsize its non-retail holdings following the pandemic.
Other business leaders see the same impact. Recently, billionaire investor Marc Andreessen said that he felt remote work was "not a good life" for younger workers.
"This sort of model an entire generation grew up with has all of the sudden been detonated," Andreessen said and added that companies built elaborate campus communities like the ones at Google, Apple, or Facebook for the express purpose of giving their employees a sense of belonging and daily interaction.
However, Slack co-founder and CEO Stewart Butterfield said "we all know that work will never be the same, even if we don't yet know all the ways in which it will be different," per a BBC report.
And as some companies demand their workers come back to a pre-pandemic on-site environment, new data shows workers at companies that still offer flexible work policies say the compromise is working.
According to Forbes, 57 percent of employees with hybrid work environments said their company culture has improved over the past two years — compared to fully in-person workers — citing flexible work policies as the primary reason their culture is improving.
One of the major driving arguments for bringing employees back to the workplace is that remote workers are becoming less engaged, resulting in less frequent and spontaneous interactions — inhibiting collaboration with colleagues — which is viewed as vital for growth, efficiency, and professional development.
But according to Harvard Business Review, new research challenges the idea of the superiority of the in-office experience. The data indicates that employees have adapted over time, especially regarding remote meetings — they are increasingly more efficient, and more frequent and spontaneous.