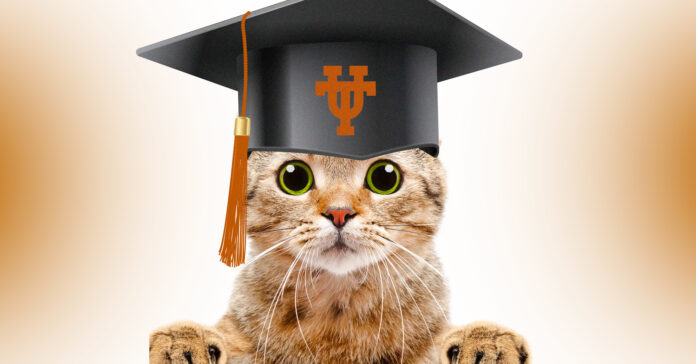 The University of Texas at Austin had a furry friend graduating from their 2022 class this year: a year and a half old cat named Suki.
Her owner, Francesca Bourdier, was part of the graduating students from the university. She stated that most of her class time was spent on Zoom lectures and that Suki had been her loyal buddy through all of it.
"I was pretty much at my apartment for most of the time and I had my cat next to me. Whenever I would have my Zoom lecture on, it's like she almost wanted to listen in on it, and she would always just sit by my laptop," said Bourdier for Fox News.
Since Suki had attended diligently to her classes just as she had, she felt it necessary for her to be acknowledged as well. A type of celebration for her pet, who became such a crucial part of enduring long classes and hard learning topics.
Thanks to the power of the internet she was able to buy Suki a matching cap and gown for them to pose in pictures. She wants her to be an honorary member of UT's spring 2022 graduating class.
This isn't the first time that Suki and Francesca have matched. On another occasion, she made her a matching pink hoodie and has a fashion page with different options for you to match with your pet in cute outfits.
Suki may not have an official degree, but in her owner's eyes, she was a very important part of her college experience. "A lot of people relate to having their pet with them, you know, attending their Zoom lectures because everyone was pretty much at home. She's just kind of my special graduate," said Bourdier.