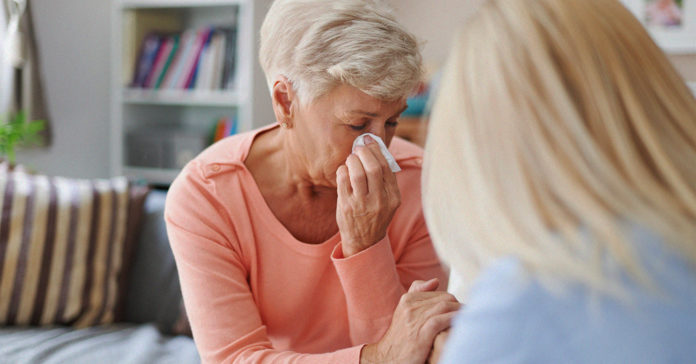 Those grieving during the pandemic have experienced restrictions on their grieving process like never before. Here two experts explain ways to cope if you or someone you care about is grieving this holiday season.
Renae Vania Tomczak, president and CEO at Mental Health America of Greater Houston says that being unable to be with a loved one when they die or unable to mourn or celebrate the life of a loved one with friends and family can have a profound effect on grief and the grieving process.
"Grief is the process by which you heal," Vania Tomczak said on Wednesday, and warned not to put your grief aside. 
"Experiencing the pain—rather than constantly trying to escape it—can actually help you feel better in the long-term."
Choosing to ignore the emotions associated with grief will continue to bring about emotional pain, Vania Tomczak explained, this may lead to physical symptoms such as fatigue, as well as impacted sleep.
During the pandemic other losses may be affecting fully processing your grief like unemployment, reduction in wages, or changes in your lifestyle. Grief may be prolonged or delay the ability to adapt, heal, and recover.
Grieving during the holidays
This is the first holiday season for many people who have experienced loss during the COVID-19 pandemic. However grief doesn't only impact the first holiday season, Vania Tomczak says.
"Reminders of holiday joy and family traditions often bring back those feelings of loss. It's important for friends and family to keep this in mind and provide those who may be feeling loss the same kindness, support, and consideration that you did in the first year of the loss," she added.
The combination of loss of our normal routines and increased feelings of disconnection can make the holidays feel even more stressful and create an overwhelming sense of grief.
Depression, anxiety, and grief are more intense right now, says Michael DeVoll, a licensed professional counselor in Houston, who serves as the president of the Texas Counseling Association.
DeVoll said he's been busier these past few weeks than he's ever been in 14 years of private practice.
Memories can help you with your grief
DeVoll says to make a list of fond memories (a great party you went to, that fun weekend at the lake, that meal that lasted four hours just because you were having such a good time with that other person, etc.), and when you're feeling low, to return to your list and these memories and "relive" one.
"Think about it very specifically, remembering detailed things that were said, what the room or setting looked like, how the food tasted—to strengthen the neural pathways of that memory. In our current state, the tendency is to focus on all the current negative aspects of life. This is a way to bring more positive memories to the forefront and shift the focus away from negative things," DeVoll explained.
It's important to continue to value the friendships you have
DeVoll has been telling his clients to remind themselves of the connections they do have and to create, as best they can, shared experiences with others who are important to us.
While grieving it can help to reach out to someone you enjoy talking to, DeVoll explained, not to talk about being sad or anxious, but just to reconnect on normal, daily life. DeVoll suggests setting up a Zoom call where you can play a game together, or FaceTime before and after a live streaming concert to catch up and then talk about the concert.
"These shared experiences can give us a stronger lift to our emotions than simply talking with someone," he added.
DeVoll also suggests getting outside to help your mood, as physical activity and being outdoors release good chemicals in your brain to help boost your mood and steady your emotions.
The healing process
The holidays can be a special time to reflect about the person you miss, and the process can help you heal.
Vania Tomczak shares 4 ways to work through your grief.
Set Healthy Boundaries. If a holiday activity is likely to bring about too many painful memories this year, be willing to say no. 
Allow yourself to feel a wide range of emotions. Try to do this without judging yourself or thinking you shouldn't be happy or be laughing. You might feel joy, guilt, and sadness all within a few minutes. You may feel better for a while, only to become sad again. It's okay and part of the healing process. 
Honor the memory of your loved one. Light a candle each night. Eat your loved one's favorite food. Plant a tree in memory. Create a virtual memory book asking friends and family to share stories and pictures. 
Ask for help from others. Seek out grief counseling or support groups. Don't know where to start? Visit our website at mhahouston.org and take a mental health screening that is free and anonymous. You can share your screening results with your doctor or other health professional. You'll also receive useful information and resources; information about and referrals to care, services, and supports; do-it-yourself tools; and online engagement with peers.  
Your story could be someone's hope. That's a campaign slogan for National Grief Awareness Week happening now.  "Distance shouldn't mean we can't share our grief," another slogan says.
Here's more resources on coping with anxiety and depression.