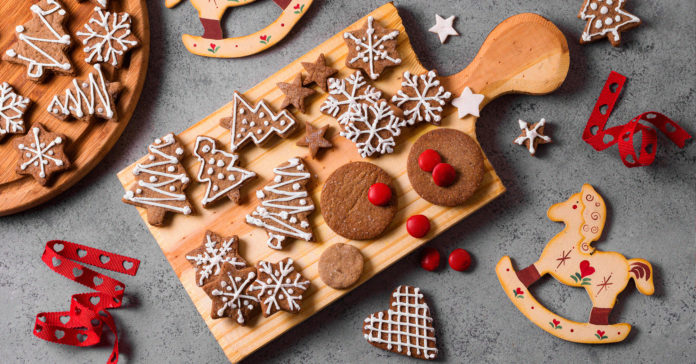 Here are some recipes to try out this holiday season that are sure to bring smiles to your family and friends.
Candy-cane cookies
Twist and turn red and vanilla colored dough to make some delicious candy cane cookies for your family this holiday season. They look cute hanging off a mug and also can be dipped into hot cocoa. After slightly chilling the dough, roll it into "snakes" and twist the red and white dough together.
Here's a recipe from The Kitchn.
Gingerbread cookies
Making gingerbread cookies and decorating them could be a fun activity for the family. Here are tips on setting up spaces for your guests to decorate cookies. Here's some tips for hosting a cookie decorating party with the kiddos.
Peanut butter thumbprint cookies
Delish has a great recipe for many different kinds of thumbprint cookies but these peanut butter ones with Hersey kisses are an ultimate holiday classic, and it only takes 20 minutes to make. Here's the recipe.
Yummy appetizers
Kick off your feast with some appetizers like a "lighter than the usual gooey baked version" of  spinach and artichoke dip.
Try out these cute cheddar crackers in the shape of  holly leaves, here's the recipe.
This cheesy monkey bread looks incredible and of course, a holiday must-have, deviled-eggs.
Take some inspiration from GRAZE htx  to create a cheese, charcuterie, and fruit boards. Place napkins and some festive paper plates for guests to use.
How about a new cocktail?
Comstock Toddy
Here's a recipe, by Alba Huerta, owner of Julep in Houston.
1.5 oz 8-proof bourbon
3/4 oz apricot liqueur
1/2 oz rainwater madeira
3/4 oz Honey Mix
4 oz Hot Cinnamon Tea
3 saffron threads
Garnish
1 swath lemon zest
1 star anise
Honey Mix
3/4 cup honey
1/4 cup boiling water
Pour the honey into a glass measuring cup or a small bowl. Add the boiling water and stir until well combined. Use immediately or transfer to a covered container and store in the refrigerator for up to 1 week.
Hot Cinnamon Tea
2 cups water
2 3-inch cinnamon sticks
Bring the water and cinnamon sticks to a boil in a small saucepan. Boil for two minutes. Reduce the heat and simmer until the tea is a deep amber color, 8-10 minutes. Remove the cinnamon sticks. Use immediately or cool completely and store in a covered container in the refrigerator for up to one week. Reheat before using.
Method: Pour the bourbon, liqueur, madeira and honey mix in the glass and stir with a bar spoon to blend. Add the hot tea and saffron threads and stir.
To garnish, lay a cocktail pick across the rim of the glass and rest the lemon zest and star anise on it.
Your foodie friends may like her cookbook for Christmas, Julep: Southern Cocktails Refashioned.
Delish has more cookie recipes to try, like these yummy snowball cookies rolled in sugar.