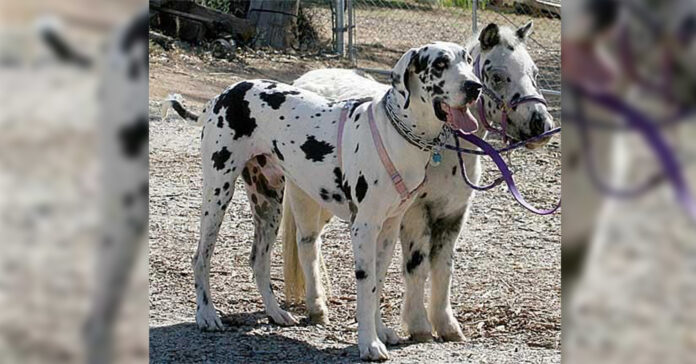 Thanksgiving in Ilonka's Texan household will be a little different from last year, in a good way. She has a lot to be grateful for this Thanksgiving, but spending it with Giant Pooch Skye and the mini horse, known as Hot Fudge Sundae, is definitely on the top of her list.

The great dane has been infatuated with the miniature gelding since the pair met in December 2020, as reported by People. 
The craziest part about this unlikely duo is the similarities they share. People struggle to tell them apart since they both have almost the same matching markings and are roughly the same size, 31 inches from floor to shoulder.
Both love spending time together and hugging each other closely. This Thanksgiving they are probably preparing to share a pumpkin pie and some apple cider.


"I think horses and dogs are very similar in general, and these two are the same. Skye and Fudge love to work and train together," the owner said of what brought best friends together, "Skye is always looking to hang out with Fudge, she adores him.  They're always playing or hugging each other."

According to People, Skye and Fudge's unusual friendship has attracted a lot of interest online, with videos of the pair gaining more than 2.4 million views.