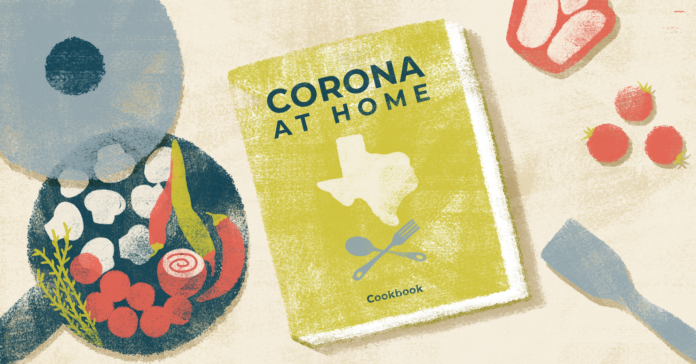 While some Texans could live on a Blue Bell ice cream diet during this stay-at-home coronavirus pandemic, others might be craving the Texas meals they love. Here are a handful of meals to try at home this weekend.

Tex-Mex in the House

Do you have eggs? Tortillas? Lisa Fain is known as the author of the cookbook The Homesick Texan, which was inspired by her own best memories around the table with her family and friends. The cookbook shares her memories through delicious Texas meals and over 125 recipes. Right now her chicken tortilla soup, South Texas baked flautas and frijoles de puerco stand out. The ingredients are probably in your pantry right now, and her conversational recipes are fun to read.

On the Homesick Texan cookbook's Instagram page, frijoles de puerco is on the table. "Do refried beans bring you joy? Then you will love these frijoles de puerco, which are loaded with chorizo, pickled jalapeños, and melted cheese. New post on the blog!" the post reads.

Here's a full list of recipes to try this weekend.

BBQ, That's Right

Houston's culinary reputation is partly defined by James Beard Award-winning Chef Chris Shepherd, who is pushing his new butcher shop at his highly acclaimed steakhouse Georgia James.

Shepherd wrote on Twitter this morning, "It's the weekend, act like it. Get out in your backyard and fire up that grill. @GeorgiaJamesHOU has got all your butcher shop needs, Cut and ready to go!!! Head to any @HayMerchant family websites to order @ Georgia…"

"New to the @GeorgiaJamesHOU butcher shop Rocking 711 Ranch ground Wagyu. $7 lb with no limits till we run out. Place your order through the website. Let's go @ Georgia James"

Shepherd's publicist at Underbelly Hospitality said in an email to Reform Austin that when it comes to go-to meals that are delicious and comforting, Shepherd loves General Tso's Chicken.

For Texans craving something grilled from Shepherd's kitchen, at the bottom of this story, you can find Shepard's recipe that RA News received for Grilled Herb-Marinated Chicken. Shepherd's cookbook Cook Like a Local came out this past fall.
The South and Seafood Go Together

Food writer Robb Walsh, author of "The Tex-Mex Cookbook," "Legends of Texas Barbecue Cookbook," and "Sex, Death & Oysters" wrote on Twitter today, "Bored? Stressed? #BBQ #oysters are probably the answer."

While Texans flocked stores for toilet paper and frozen food, it is uncertain how the seafood department is holding up in grocery stores, but here is Walsh's recipe if you feel like having some BBQ oysters this weekend.

If you are a fish fan, you may love the recipes in "Texas Seafood: A Cookbook and Comprehensive Guide" by PJ Stoops and Benchalak Srimart Stoops (University of Texas Press). The Kindle edition can be in your hands in seconds. The San Antonio Express-News called the cookbook a "must-have for anyone even remotely interested in the bounty the state's waters have to offer."

If you are in the mood for Gulf Coast cuisine, Texas Monthly features the Stoops' Banana Leaf Spanish Mackerel With Roasted Shallot Pico here. Or maybe you would like a catfish recipe.
Chicken Fried Steak, Anyone?

Texas Monthly has a yummy chicken fried steak recipe.

A week ago, Frank's Americana in Houston posted a photo on Instagram of their mouth-watering chicken fried steak.

On Food52, a writer shares a special narrative of memories of eating and cooking, and a classic recipe for chicken fried steak as well.

While the doors have shut on restaurants across Texas (except for takeout), it's time more than ever to appreciate the chefs and cravings we now have limited access to.

Food writer Francine Spiering is the author of "Houston Cooks," a cookbook that celebrates the flavors and talent of the Bayou City. It was published this past fall, and the Houston Chronicle interviewed her about it.

What Spiering said last fall rings true now.

"We have cuisines that allow for endless innovation. What also strikes me about Houston's chef community is how tight-knit it is. There's an overall genuine feeling of support and commitment to each other," she said.
If you aren't in the mood to cook, there's always the option to simply sit around with queso and chips. Need something tasty to watch? The first season of Julia Child's "The French Chef" is free to stream on Amazon Prime, the New York Times reported today.
Chris Shepherd's recipe for Grilled Herb-Marinated Chicken 
Serves 4

One 3-pound chicken, or chicken parts
1 cup fish sauce
¼ cup honey
Juice of 4 limes, plus 2 limes for garnish
10 garlic cloves
2 bunches green onions
1 bunch cilantro, plus more for garnish
2 jalapeños
¼ cup canola oil, plus more for the grill

Set the chicken with the breast side lying on a cutting board. Using kitchen shears or a cleaver, go up from the cavity of the chicken toward the neck, cutting on either side of the back bone to separate it from the ribs (save the backbone for your next batch of chicken stock). Turn the chicken breast-side up, place both your hands in the center of the breast plate and press down hard until you hear the breast bone snap; the chicken should be flattened at this point.

Place the fish sauce, honey, lime juice, garlic, green onion, cilantro, jalapeño and ¼ cup oil in a blender. Puree to a smooth consistency. Place the chicken and sauce in a large resealable plastic bag. Marinate 4 hours or overnight.

Prepare a medium-hot charcoal grill with hotter and cooler zones and use a paper towel and tongs to grease the grates with some of the canola oil. When the grill is hot, remove the chicken from the marinade and let any excess drip away. Do not pat dry. Place the chicken skin side down and grill for 5 minutes, being careful not to let it burn as the sugars from the honey will start to caramelize. Using tongs, flip the chicken and move to a cooler spot on the grill and continue to cook until it reaches an internal temperature of 165°F, 35 to 40 minutes (flip it about halfway through for even cooking). Transfer the chicken to a cutting board and let it rest for 10 minutes.
Carve the chicken: Cut the wing portion from the breast, cut the breast into 2 pieces, and separate the leg and thigh. Top with cilantro and lime wedges.