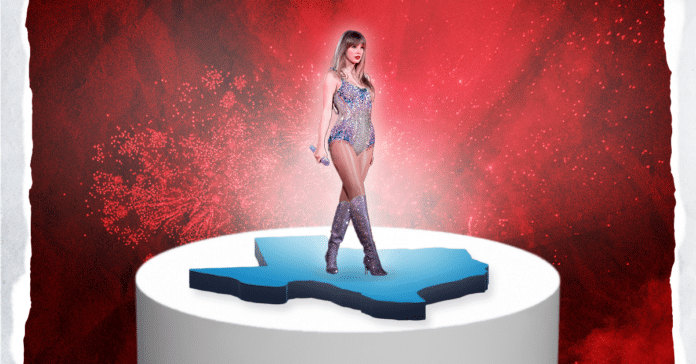 Taylor Swift's eras tour is a magical experience for Swifties, but the timeless tour is also boosting the U.S. economy.
The U.S. Federal Reserve credits Swift for helping improve tourism growth in cities that had been affected by the pandemic. The singer-songwriter gets a nod from Philadelphia in the beige book.
"Despite the slowing recovery in tourism in the region overall, one contact highlighted that May was the strongest month for hotel revenue in Philadelphia since the onset of the pandemic, in large part due to an influx of guests for the Taylor Swift concerts in the city," officials wrote.
Compiled eight times a year, the Beige Book is a summary of how different parts of the United States are doing economically. The document is published before the Federal Reserve committee meeting, where monetary policies, such as interest rate decisions, are discussed.
The singer-songwriter is currently on her U.S. leg of the Eras tour consisting of 53 shows. She made her way to Houston in April for a sold-out three nights show at NRG Stadium.
Her stay in space city recorded the highest hotel revenue week of 2023, according to the city's tourism agency, Houston First Corp. According to data compiled by the agency, hotels in Houston had an occupancy rate of nearly 78% with a charge of a daily average of $137 from April 21 to 23.
According to the Business Journal, in 2019 hotels in Houston maintained nearly 67% occupancy rates. During Swift's tour dates, hotels near NGR — the medical center — had a 91% occupancy rate with an average cost of $215 per night.
It is important to note that during Swift's stay, the First Championship in robotics had a record-breaking attendance of 50,000 and was held at the George R. Brown Convention Center.
However, when the city hosted the Final Four week, which also included Astros opening weekend and the March Madness music festival, the occupancy rate was 66%, with a $150-weekend nightly average.
The singer-songwriter is on her first tour since 2018 and has since released seven albums — four new and three re-recordings. She most recently released Speak Now (Taylor's Version) on July 7.