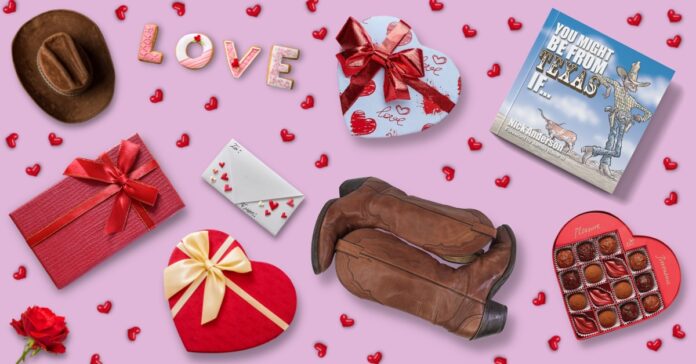 It's that time of year again! Valentine's day is right around the corner, and cupid has arrived in the Lone Star State. For this lovey-dovey season, Reform Austin has prepared a list of gifts to give to your significant other or to your besties.

Let's take a look at 5 different ideas that will help make your Valentine's buying experience as easy and fun as possible!
1. You might be from Texas if…
Let's start with the very best!
This item on our list is a humorous book that highlights some of the good, the bad, and the funny things about being Texan. Written and Illustrated by Reform Austin's own Managing editor, Pulitzer prize-winning cartoonist Nick Anderson. This book is sure to tickle your funny bone more than once, making you and your fellow Texan friends laugh out loud.
Find it in our RA store.
2. Cowboy Boots
Howdy, Partner!
Of course, we never forget a crowd favorite, cowboy boots! Perfect for running errands, going to a bar, or just chilling.
So run down to your favorite Cowboy boot supplier and grab a few pairs for your SO and friends, or maybe just treat yourself to a pair for yourself (we are all about self-love here at RA).

3. The Classics

You can never go wrong with a bouquet of flowers or a box of chocolates. You might think it is a cliché to get your partner the heart-shaped balloons that say "I love you" or the adorable stuffed bear hugging a box of chocolates that say "You're the one," but these items are classics because they work. So don't overthink it.

4. Literally Anything From Buc-ee's
We all love to find an excuse to go to Buc-ee's, and this is the perfect one. Literally, anything with the beloved beaver logo will do. They also have some very cute Valentine day themed goodies that will have you falling in love. You can buy a pair of socks, a cute plushie, or even an adorable Valentine's day shirt.

And also, do yourself a favor, and don't forget to grab some brisket while you are there.
5. "Diamonds Are A Girl's Best Friend"

Marilyn Monroe said it best: Diamonds are a girl's best friend. And honestly, even guys love diamonds, so jewelry is sure to wow anybody this Valentine's season.

There are so many options; rings, necklaces, bracelets, watches, etc. So, go down to your nearest jewelry shop, and pick out the shiniest object in there.