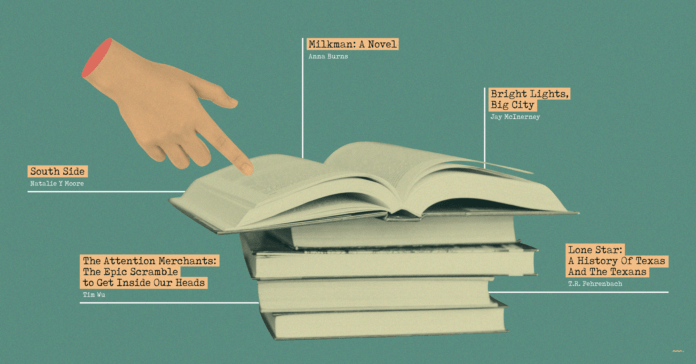 Political science and policy experts are doing plenty of reading over the summer and as the election nears. Here's what five experts are reading right now.
Mark P. Jones, a political science fellow at Rice University's James A. Baker III Institute of Public Policy, has a long list of books he's reading right now including "Bright Lights, Big City" by Jay McInerney. "I had read this before, but not since my senior year in college, and it came up in a conversation while out in Colorado last week, so I decided to pick it up again over the weekend," Jones said.
"Rat F**ked" by David Daley. "I read this when it first came out a few years ago, but picked it up again after suggesting it to a student to read for a research project this summer related to the upcoming battle for the Texas House with control over the redistricting process for the Texas U.S. House delegation hanging in the balance."
Jones is also reading "Lone Star: A History of Texas and the Texans" by T.R. Fehrenbach, "Bloodlands: Europe Between Hitler and Stalin" by Timothy Snyder, "Harbor" (Book 8 of the Traveler Series) by Tom Abrahams, and "Malvinas en Primera Línea" by Lautaro Jiménez Corbalán.
Brandon Rottinghaus, professor and Pauline Yelderman endowed chair of political science at the University of Houston, said he just finished reading "South Side" by Natalie Y. Moore, a personal and sociographic story about segregation in the south side of Chicago. "My college roommate and I have an annual traveling book club (canceled this year) where we read a book about Chicago where we spent college and graduate school years and visit old haunts," Rottinghaus said.
Next, Rottinghaus is looking forward to reading "I'll Be Gone in the Dark" by Michelle McNamara. He said he's a big fan of true crime stories.
For political science books, Rottinghaus is reading "Making Young Voters: Converting Civic Attitudes into Civic Action" by John B. Holbein (University of Virginia) and D. Sunshine Hillygus (Duke University). "It's a well-researched book about the puzzle of low turnout among young voters and what we can do to change it," he said.
Jacquie Baly, political analyst and director at Gov. Greg Abbott's University Research Board and professor in public policy, public administration and urban politics at the University of Houston, said she is currently reading "The Attention Merchants: The Epic Scramble to Get Inside Our Heads" by Tim Wu. "I'm intrigued and agree with his assessment of excesses of the modern internet — which scrapes our data and targets us with specific ads," she said.
Baly provided a statement from the book that stood out.
"Fame, or the hunger for it, would become something of a pandemic, swallowing up more and more people and leaving them with scars of chronic attention-whoredom."
Renée Cross, senior director at the Hobby School of Public Affairs in the Department of Political Science at the University of Houston, said while she is preparing to teach a class on the presidency this semester, she is reading a number of books on elections including rereading the political science classic "Presidential Elections: Strategies and Structures of American Politics" by Nelson Polsby.
Cross said she read the book as an undergrad many years ago and still considers it the best at providing a thorough overview of our presidential election process.
Cross is also reading "Election Meltdown: Dirty Tricks, Distrust, and the Threat to American Democracy" by election law expert Richard Hasen "because after all, it is 2020, and well, anything can happen."
Next up on Cross' list are "Thank You for Voting: The Maddening, Enlightening, Inspiring Truth About Voting in America" by Erin Geiger Smith and "Bluebird, Bluebird," a thriller set in East Texas written by native Houstonian Attica Locke.
James Henson, a political science professor at the University of Texas and director of the Texas Politics Project, has been rifling through several books. One is "Milkman" by Anna Burns which won the 2018 Man Booker Prize. Henson said the praise for the book is well-deserved, and he loved the book, calling it "a vivid first-person account of a young woman navigating the Troubles and early adulthood in Northern Ireland, written in a unique voice."
Henson suggests "Adéle" by Leila Slimani, "a much-talked about novel that deserved all the discussion; I blew through it in a weekend and recommend it," he said. On his list is "Clean Hands" by Patrick Hoffman, "a serviceable exercise in contemporary crime fiction with a nice New York City setting".
Henson said he just started reading a recently released book by Robert P. Jones — "White Too Long: The Legacy of White Supremacy in American Christianity." "Like a lot of people, I've been thinking a lot about race in America these last few months, and so far, the book is a terrific combination of analysis with just the right amount of memoir," he said.