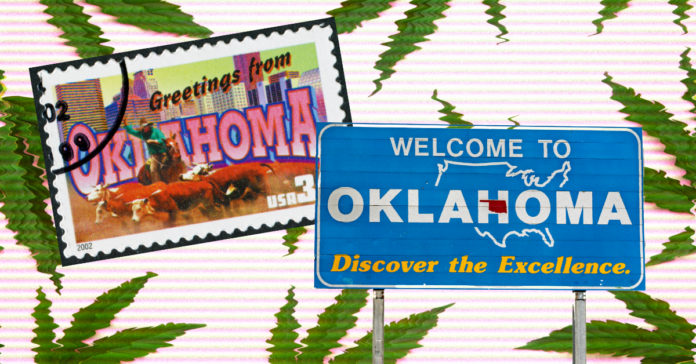 Why stay in Texas where you can still get arrested for possessing pot, if you can just cross the Red River to the "capital" of medical marijuana.

Dorothy, you are not in Kansas anymore. Since passing State Question 788, which legalized medical marijuana with very few limits, Oklahoma is another world. Overnight, a new land rush was on in the state and the marijuana business started to boom.
"As soon as I knew it was going to pass. I was on the first flight, you know, that's how it all started," said Josh Camden to ABC13, who moved his whole family from California to run an operation on a few acres of rural land, in addition to owning several dispensaries under the Emerald Fire brand.

The surge of business in Oklahoma is also due to how cheap it was to get started, said Adria Berry, the Executive Director of the Oklahoma Medical Marijuana Authority (OMMA), the agency that regulates all things cannabis. "We have a $2,500 license fee."

Since legalization, OMMA has collected $90 million in tax revenue with more than $67 million going to the state's education fund. Using the Cannabis industry to benefit all sectors of the state is something Texas is clearly missing out on.

Oklahoma only has 4 million people in the state, whilst texas has 27 million, the amount of opportunities marijuana could generate if it were to get across the border – legally – are infinite.

"No question it's a missed opportunity for Texas. It's certainly not too late, but I mean, it's somewhere in the mid-thirties percentage of states who have a meaningful program in some regard. Texas is too big a state to be in the minority in that," said Blake Cantrell, CEO of Peak Dispensaries.

The business has moved far beyond a backyard grower. Billions of dollars and thousands of livelihoods are affected by this industry. Currently, there are more than 8,000 growers, 2,300 dispensaries, 100 processors and about 150 other cannabis-related businesses licensed in Oklahoma.
Around 400,000 Oklahoma residents, approximately 1 in 10, have medical patient cards.
"Cannabis is not controversial in Oklahoma," said Travis Smith, Smokey Okie's dispensary owner to ABC13. "It is a new sector. We're job creators. We employ lots of people. I mean, we have health insurance for our employees. We have 401K options. We are a real company."

Pot has even turned a hard Republican lawmaker into "The Godfather of Marijuana."

State Representative Scott Fetgatter, admits he was adamantly opposed to the legalization of marijuana, but is now considered a trailblazer for the industry, leading the way in passing various marijuana-related legislation in order to manage the burgeoning industry. .
"My job is not to necessarily always inject my personal feelings into my job. Sometimes my job is to listen to what my constituents want as well," said the lawmaker about his change in perspective. "I would say Republicans enjoy marijuana and use it for medicinal purposes as much as Democrats do, or, you know, at least in Oklahoma."