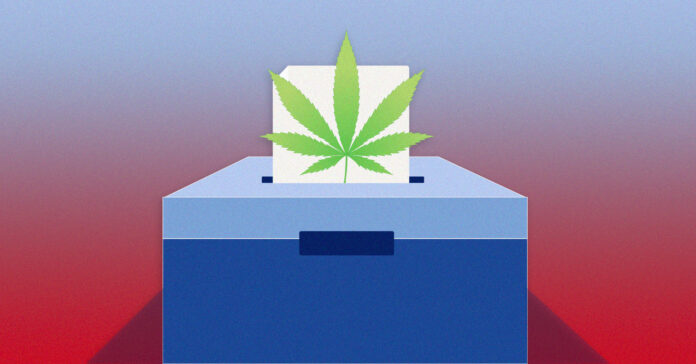 Texas Marijuana advocates continue their fight to decriminalize their favorite green plant. Though they have not won the war to expand marijuana access at a statewide level, they have won several battles down in the trenches, adding on city ballots the option to decriminalize pot.

On Wednesday, they announced that they've collected more than enough signatures to qualify a marijuana decriminalization initiative for the local ballot in San Marcos, according to Marijuana Moment.

Advocates for Ground Game Texas collected more than 10,000 signatures to place the issue before San Marcos during the upcoming midterm elections.
"For too long, San Marcos residents have faced the undue burden of legal troubles, financial hardship, and even incarceration for low-level marijuana offenses," Julie Oliver, executive director of Ground Game Texas, said in a press release. "Ground Game Texas and Mano Amiga are proud to give voters in San Marcos the opportunity to reform local marijuana laws on the November ballot."
This is just the latest update in an activist-led push for Mary-jane, just last month Austin voters approved the cannabis policy change in the state's capital, and signatures submitted to qualify decriminalization measures for local ballots in November have passed in three additional cities: Killeen, Denton, and Elgin.

The signature gathering and votes show the strong desire to move away from marijuana criminalization in the Lone Star state.

According to a Dallas Morning News-University of Texas at Tyler poll, 91% of Democrats, 85% of independents, and 74% of Republicans, combining for 83% total, were in favor of legalizing marijuana for medical use.

When it comes to recreational use, which is legal in 18 other states, just 42% of Republicans are in favor, compared with a majority of Democrats and independents, 76% and 64%, respectively.

Another separate survey released this month found that cannabis legalization is more popular in Texas than among the state's top elected officials and President Joe Biden.

Despite Texans' pleas, Gov. Greg Abbott refuses to jump on board. Last month, the Governor said his position has not changed beyond reducing the criminal penalty for marijuana possession to a Class C misdemeanor. Reaffirming it is not in his plans to legalize marijuana anytime soon.