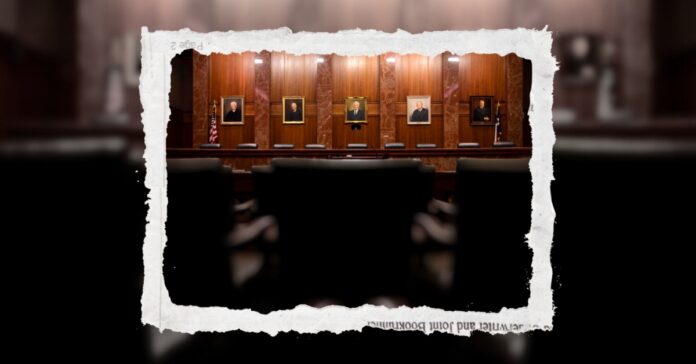 Voting rights advocates are breathing a sigh of relief this week as the U.S. Supreme Court rejected a fringe legal; argument that could have removed all checks on the power of state legislators to run elections, even in ways that are blatantly discriminatory. Eight top Texas Republicans supported the theory.
The case was Moore v. Harper, a North Carolina lawsuit that claimed state legislators alone are empowered by the U.S. Constitution to control all aspects of elections. Known as independent state legislature theory, it picked up support in far-right circles because it could keep state courts from overturning gerrymandered districts. The court rejected the notion 6-3, claiming it would invalidate many states' own constitutions.
The theory was always considered absurd by mainstream legal scholars, including Texas Supreme Court Chief Justice Nathan Hecht.
"A state legislature has never been allowed to act in violation of the state's constitution," he said in an editorial for The Houston Chronicle. "And state courts have never been excluded from reviewing the legislature's actions, particularly under the state's constitution. This would dramatically impact federalism as it defines the interplay between state and federal courts."
In spite of the chief justice's unusually public rebuttal against the theory, it had its supporters in Austin. Eight top Texas Republicans filed briefs in support of independent state legislature theory.
Among those is currently indicted and impeached Attorney General Ken Paxton, who signed on with other Republican state attorney generals in a brief. He was joined by attorney generals from Alabama, Kansas, Kentucky, Louisiana, Mississippi, Montana, Nebraska, Oklahoma, South Carolina, and Utah.
Matt Rinaldi, chair of the Texas GOP, also joined as brief, as did six current and former Texas Representatives: Brian Harrison (R-Waxahachie), Briscoe Cain (R-Baytown), Matthew Krause (R-Fort Worth), Matt Schaefer (R-Tyler), Steve Toth (R-Spring), and Valerie Swanson (R-Spring).
All the briefs had the same basic argument. Courts are not empowered to interfere with the running of elections. Only state legislators can draw maps, impose voting restrictions, or oversee elections.
If the theory had been supported by the U.S. Supreme Court, it would have removed all ability of the courts to step in when state legislatures pass laws or draw maps that discriminate against voting populations, eliminating the checks and balances that are at the foundation of the United States' political ideology. Instead, only the U.S. Supreme Court would have jurisdiction.
While not the total loss of checks and balances in theory, in practicality it would have required the high court to constantly monitor the electoral actions of all states and territories since the state courts would have no role. With state legislatures, especially Republican ones, constantly churning out new laws and guidelines for elections, high court would have been overwhelmed.With Moore down in flames, there is at least some hope that state courts will be able to rein in the worst of legislatures' discriminatory practices. At the very least, election laws will have to consider the legal power of figures like Justice Hecht.