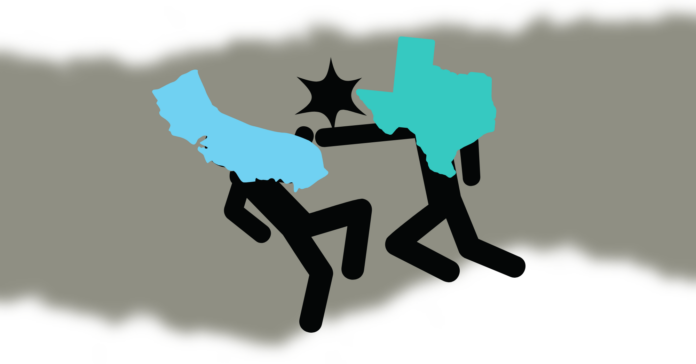 "Don't California My Texas" is a common conservative battlecry in the Lone Star State that pulls double duty for two concepts. One, it couches any leftward political movement as a byproduct of immigration from reliably blue California rather than any internal weather change in the political climate. Two, it is a self-congratulatory humblebrag that is supposed to show that the state's conservative values are beckoning people fed up with California liberalism.
The problem is that neither of these things can be backed up with data.
It's been a popular myth for a while that Californians are flocking to Texas. Bloomberg News just ran a story showing that 1 in 10 new Texans were originally for the Golden State. The data was drawn from Placer.ai using foot traffic from phone usage, and it shows that between July 2019 and July 2022, 11.1 percent of Texans came from California, which is certainly a big number
However, the data misses the forest for the trees. A more contextual analysis by Aaron Gordon at Vice shows that California is actually sending slightly fewer people to the state than would be expected just based on the size of the state.
"The population of the United States minus Texas—because people already in Texas cannot move to Texas—is 300.86 million people. California's population is 39.35 million, or 13 percent of the U.S.' non-Texas population. Therefore, more than 13 percent of Texas' new residents would have to be Californians in order for there to be something of note going on here."
While there are certainly a lot of former Californians in Texas based on cellphone data, it's slightly below what would be expected of just random chance. Nor is there any reason to believe that the ones who are moving here are all disaffected liberals being wooed by conservative values. Remember, 6 million Californians voted for former President Donald Trump in 2020, more than people voted period in 44 states.
It's certainly true that a lot of California companies have moved or are planning to move to Texas. Hewlett Packard, Charles Schwab, Pabst Brewing, and Aeromax are just some of the corporations relocating headquarters here. However, while the CEOs might like the business-friendly attitude of the state, the workers increasingly are refusing to move here. One survey found that two-thirds of employees wouldn't relocate to Texas following the state's ban on abortion.
Increasingly, people are also discovering that the promise of low taxes in Texas is actually a myth for all but the top 1 percent of earners. Despite the state's lack of income tax, the tax burden on lower and middle income earners is significantly higher. An analysis in the Houston Chronicle showed that the bottom 20 percent of earners in Texas pay 2.5 precent more in tax than the same group in California, and the middle 60 percent pay just under 1 percent more. By contrast, the top 1 percent in Texas pay only 3,1 percent as opposed to 12.4 percent in California. These numbers are why Texas is the second least equitable tax state in the nation.
Nor is it true that Californians are fleeing crime-ridden cities. On a recent Forbes list, five of the top fifteen safest cities with populations over 300,000 were in California, while only three were in Texas. The trend continues in cities between 100,000 and 300,000, with California having twice as many as Texas.
There's just not much weight behind the idea that anyone is California-ing Texas.