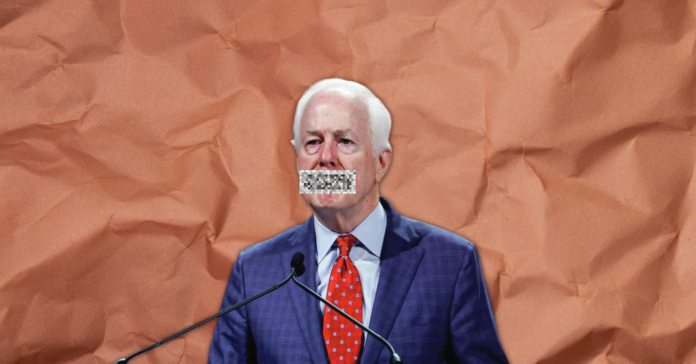 In a near-unanimous vote this week, the Collin County Republican Party censured Sen. John Cornyn for committing the cardinal sin of occasional compromise with the opposing party. They declared their indignation with his "history of crossing over and voting with the Democrat Party to accomplish their objectives" and demanded his "immediate resignation from the U.S. Senate for his faithlessness to our party and our principles."
Among his transgressions was his work in crafting a modest gun control compromise after the Uvalde school massacre which incentivized states to adopt "red flag" laws, strengthened background checks and increased review of young gun buyers.
For this, Sen. Cornyn was roundly booed at the Texas Republican convention in June. During his address, Sen. Cornyn attempted to pacify the crowd by assuring them that "Democrats pushed for an assault weapons ban, I said no. They tried to get a new three-week mandatory waiting period for all gun purchases, I said no. Universal background checks, magazine bans, licensing requirements, the list goes on and on and on. And I said no, no, 1,000 times no." But the crowd was not satisfied and continued to heckle and boo.
The Collin County GOP resolution stated that Cornyn "had the unmitigated temerity to try to convince thousands of Republican delegates at the 2022 RPT convention that he was working to protect the 2nd Amendment, and such subterfuge is a gross violation" of the party's "core principles."
Other unforgivable acts of depravity included an occasional vote to confirm or advance a handful of President Joe Biden's judicial and administrative nominees, as these appointments represent grave threats to "American and Texas sovereignty."
The document further admonishes Sen. Cornyn for working to promote "civic engagement" in an "educational setting" because this somehow fosters "the imposition of critical race theory."
This seems incongruous, given that Cornyn's campaign said the senator worked with the conservative Texas Public Policy Foundation on the measure, "which actually bans the teaching of critical race theory."
For these sins, the Collin County GOP "stridently opposed to Senator Cornyn's continued defamation of Republican principles," demanded his resignation from the Senate and urged other conservative groups and executive committees statewide to join them in their condemnation.