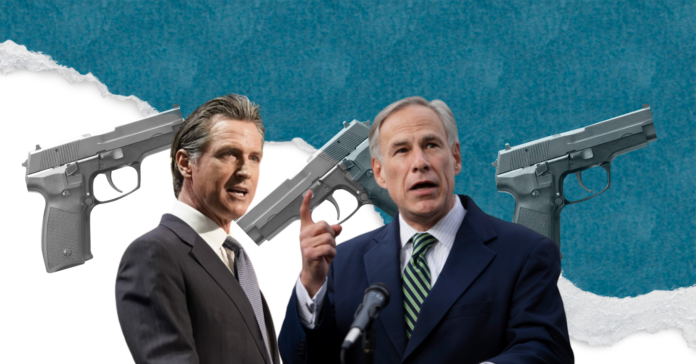 California Gov. Gavin Newsome placed full-page ads in several Texas newspapers Friday drawing attention to a new California gun law which emulates Texas' vigilante abortion law. The legislation will enable private citizens to sue people who make or sell banned weapons and is billed as "California's answer to Texas' perverse bill."
"If Texas can ban abortion and endanger lives, California can ban deadly weapons of war and save lives. If Governor Abbott truly wants to protect the right to life, we urge him to follow California's lead," reads the ad.
The controversial Texas abortion law, passed prior to the Supreme Court case overturning Roe v. Wade, includes an unorthodox enforcement mechanism. The "vigilante-enforcement" mechanism empowers private citizens to sue abortion providers or individuals who assist someone seeking an abortion after about six weeks of pregnancy.
These ads come on the heels of television ads aired by Gov. Newsome in Florida attacking Florida Gov. Ron DeSantis, feeding speculation that Gov. Newsome is contemplating a presidential run in 2024.
The California law is part of a recent backlash against the Texas vigilante-abortion law in states led by Democrats. The American Civil Liberties Union has criticized both the Texas and California laws because they encourage vigilantism. The ACLU warned that the laws could "escalate an 'arms race' … by setting up bounty-hunting schemes on politically sensitive issues."
But in a telephone interview with NBC News, Newsom said Democrats need to start playing hardball. "I think Democrats have been playing a little soft," he said.