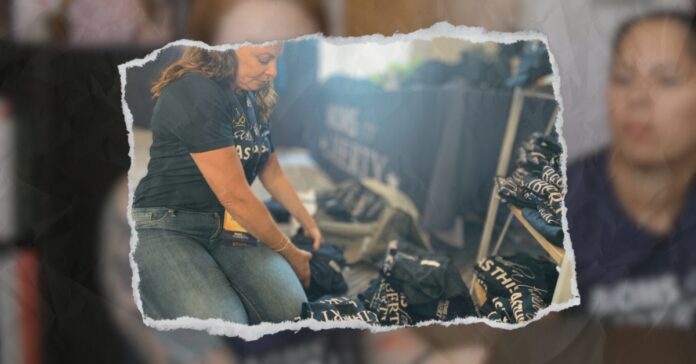 Moms for Liberty is many things to a lot of people. To its members, they are a grassroots movement of "joyful warriors" who "don't co-parent with the government." Their opponents say they are a well-connected extremist group that attacks inclusion in schools.
Furthermore, to Republicans eyeing the race to win the presidential nomination, they've become a key partner.
The Florida-based nonprofit, championing "parental rights" in schools has quickly become a major influence for the 2024 election, uplifted in part by GOP operatives, politicians and donors.
Frustrated by the student mask and quarantine policies in 2021, Tiffany Justice, Tina Descovich and Bridget Ziegler started 'Moms for Liberty,' all of them have either been or are current school board members in Florida.
In just two years, the organization has expanded to 285 chapters across 44 states. According to the Associated Press, the group claims to have 120,000 active members.
While they didn't exist during the last presidential election, the group has been at the front lines of the conservative movement, targeting books referring to race and gender identity and helping elect right-wing candidates to school boards nationwide.
At the end of June, they are hosting a gathering for Republican presidential primary contenders in Philadelphia.
According to the event listing, Former President Donald Trump, Florida Gov. Ron DeSantis, former U.N. Ambassador Nikki Haley and biotech entrepreneur and "anti-woke" activist Vivek Ramaswamy have announced they will speak at the meeting.
According to the Associated Press, the group is in talks to bring other candidates including Republican Sen. Tim Scott of South Carolina and Robert F. Kennedy Jr., a frill Democrat known for pushing anti-vaccine conspiracy theories.
A great deal of interest in this event highlights how fights surrounding gender and race have become core issues for Republican voters.
It goes on to further highlight Republicans' enthusiasm to support a group that has drawn backlash for spreading anti-LGBTQ+ ideas and stripping libraries and classrooms of diverse material.
"Given that the Republican Party in the last 10 years or so especially, has moved from and more of a kind of Country Club Chamber of Commerce, pro-business establishment, it's moved away from that," said J. Bryan Cole, an associate political science professor at the University of Houston. "And it's moved to where there's a greater emphasis on taking conservative positions on cultural issues. So, abortion, firearms, LGBTQ+, I think that moms for liberty rise is in the context of that broader shift within the Republican Party."
The organization expanded its activism in local school districts advocating for book bans, by targeting books they say are inappropriate or "anti-American," ban instruction on sexual orientation and gender identity. They also want to require teachers to disclose students' pronouns to parents and remove diversity, equity and inclusion programs from schools.
The group seeks to elect like-minded candidates to school boards nationwide. In 2022, just over half of the 500 candidates endorsed for school board positions nationwide won their races, Justice told the Associated Press.
While Moms for Liberty pitches itself as a nonprofit grassroots organization started by passionate parents who call themselves "joyful warriors." However, the group's close ties to Republican organizations, donors and politicians bring into question partisanship and if the organization is really grassroots.
Cole said that the group is a good example of astroturfing.
"Astroturfing refers to the concept that it sounds like, it looks like it's grassroots, but it's really well funded and it has a lot of connections with powerful people," he said. " I think one of the moms is married to the chairman of the Florida Republican Party. It definitely sounds like an astroturfing group, and that it grew out of their efforts to end mask mandates and how that's kind of morphed into school curricula more broadly."
Co-founder Ziegler stepped down from the board in late 2021 but is still supportive of the group, and is married to the chairman of the Florida Republican Party. She is also a board member in Sarasota County and a director at the Leadership Institute, a conservative organization that regularly trains Moms for Liberty members.
Marie Rogerson, who replaced Ziegler on the Moms for Liberty board, is a seasoned political strategist. In 2018, she managed the campaign of Florida state Rep. Randy Fine, a Republican.
DeSantis has quickly become a close ally to the group.
Moms for Liberty were loud advocates of some recent pieces of legislation DeSantis signed into law. In 2021, Florida's "Parents Bill of Rights," was used to fight local student mask mandates and identify parents' right to direct their kids' education and healthcare.
In 2022, DeSantis signed a law that bars educational material about sexual orientation and gender identity in kindergarten through the third grade and has been extended through the 12th grade. The opponents call this the "Don't Say Gay" bill.
Last year, the group's inaugural summit in Tampa hosted speeches by both DeSantis and his wife, Casey, and presented the governor with a "liberty sword."
"They might appear at first glance like they are grassroots, but it's clear given how well funded they are that that's not the case," Cole said. "Them being well funded is going to contribute to their impact and potential for success."
The group doesn't have to disclose its donors as they are a 501(c)4 nonprofit, however, there are other peeks at how powerful Republicans have helped fuel its rise.
The organization's summit sponsors, who have paid tens of thousands of dollars for those slots, include the Leadership Institute, the conservative Heritage Foundation and Patriot Mobile, a far-right Christian cellphone company whose PAC has spent hundreds of thousands of dollars in an effort to take over Texas school boards.
The group's work with conservative organizations and DeSantis show that they care about the causes they showcase, but that doesn't mean it isn't a grassroots effort, Justice told the Associated Press.

Anti-government Extremist Group
Whilst Moms for Liberty has aligned itself with establishment Republicans. Researchers say that their activism is a part of the latest anti-student inclusion efforts around the country.
In its annual report released last week, the Southern Poverty Law Center, a nonprofit that tracks hate and extremism around the country, designated Moms for Liberty as an "anti-government extremist" group alongside 11 other groups that use parents' rights as a tool to attack public education and make schools a less welcoming environment for minority and LGBTQ+ students.
The label springs up after some of the leaders in the group have been accused of harassing community members and increasing false claims regarding gender controversies.
It is "alarming" to call Moms for Liberty's activities extremist and the group's efforts to fund and endorse school board races show that it is not "anti-government," Justice told the Associated Press.
The group removes chapter chairs who break their code of conduct, she added. Some of the group's members and leaders are gay, including one member on their national leadership team.
A growing alliance of local organizations that promote inclusivity in education have begun to mobilize against Moms for Liberty. They are petitioning Marriot to stop the upcoming conference.
Defense of Democracy, a New York organization founded in direct opposition to Moms for Liberty, is planning to bring members to Philadelphia to protest in person.
"They're so loud and so aggressive that people are kind of scared into silence," Defense of Democracy founder Karen Svoboda told the Associated Press about Moms for Liberty. "You know, if you see bigotry and homophobia, there is a civic responsibility to speak out against it."
Moms for Liberty will increase security for their event as a response to Defense of Democracy's plans for protest.
While Marriott hasn't responded to the petition or the Southern Poverty Law Center's "extremist" tag, this hasn't discouraged any Republican candidates from being a part of the event.
Haley responded by tweeting, "If @Moms4Liberty is a 'hate group,' add me to the list." Ramaswamy went onstage for a Thursday town hall with Justice and tweeted that SPLC stands for "Selling Political Lies to Corporations."
Moms for Liberty is fundraising off of these rifts. After the SPLC report was made public, Justice told the Associated Press that the group raised $45,000 and a larger donor has agreed to match it.