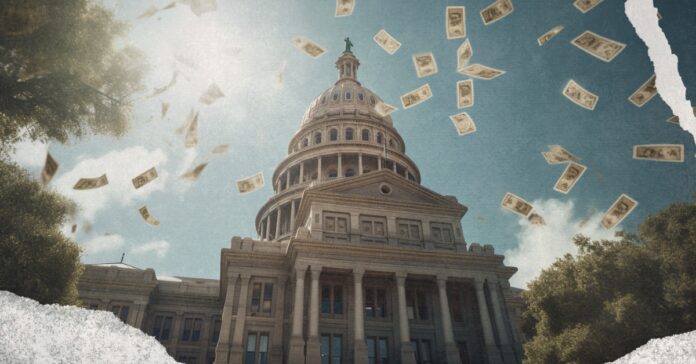 After weeks of impasse between the Texas House and Senate over a property tax relief plan, both chambers are displaying signs of easing tensions.

On Monday, the Senate swiftly passed a package within an hour, cutting homeowners' property taxes and taxes on businesses by an unprecedented $18 billion. Simultaneously, Speaker Dade Phelan of the House appointed a Select Study Committee on Sustainable Property Tax Relief to analyze property tax systems and propose long-term relief solutions.

Sen. Paul Bettencourt introduced Senate Bill 26, which would raise the homestead exemption for owner-occupied houses to $100,000 and provide an additional $40,000 exemption for homeowners aged 65 and older. Moreover, approximately 67,000 small businesses would be exempt from paying the state franchise tax, eliminating the need for them to file tax forms, as reported by Austin American-Statesman.
On the first day of the special session, the House passed its tax plan and adjourned – Gov. Greg Abbott quickly endorsed the package. The Senate was left with the option to either "take it or leave it," ultimately Lt. Gov. Dan Patrik rejected it, criticizing Abbott for his lack of understanding of the legislative process, and said Phelan was not negotiating in good faith.

Phelan's office did not immediately respond to the Senate's latest plan, but he indicated that he was waiting for the Senate to follow the House's lead. While Gov. Abbott's spokeswoman, Renae Eze, did not comment directly on the Senate plan, she emphasized that the House plan was the preferred option as it effectively lowers property tax rates.

The spokeswoman reiterated that a property tax bill must pass both chambers and reach the governor's desk for it to become law.

"The Governor has also been clear that the only way a property tax bill gets to his desk is for the Texas House and Texas Senate to agree to a bill and get it to the Governor's desk, and he encourages the two chambers to work towards a solution," she said.
Despite the approaching end of the special session, Abbott has the authority to call another one if necessary. Constitutional amendments are required for part of the Senate's plan, meaning a statewide vote would be necessary. Normally, such elections occur in November of odd-numbered years, necessitating the passage of the proposed amendment, Senate Joint Resolution 2, by August 9.