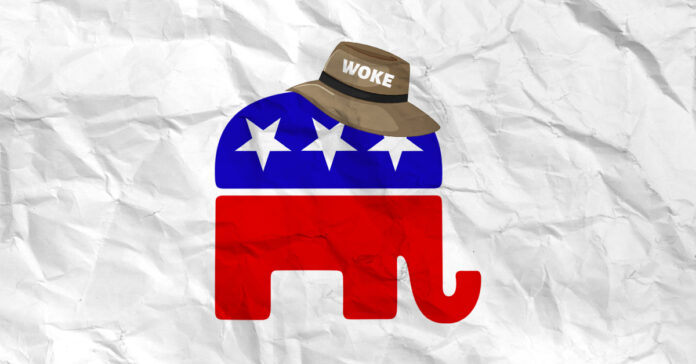 Moderation is said to be the best course of action. Someone should tell the Republican party.
A new poll conducted by the New York Times/Siena College of Republican voters nationally and specifically in Iowa found that a majority of them are likely to vote for candidates focusing on "law and order" instead of candidates focused on weeding out "woke" ideology.
Republican candidates freely overuse the word "woke," a term only few can define but is often used to describe what the right-wing sees as the left-wings views on race, gender and sexuality.
Gov. Ron DeSantis used the word five times in 19 seconds. He substituted "woke" for Nazis and cribbed from Winston Churchill's famous vow to fight a threatened German invasion in 1940.
The former governor of South Carolina, Nikki Haley, spoke of a "woke self-loathing" the nation is under and Sen. Tim Scott (R- South Carolina) found himself trying to take his words back after declaring that "'woke supremacy' is as bad as white supremacy."
The word "woke" became a way to show their conservative credentials, but the word has had an opposite effect on GOP voters.

The poll asked voters two specific questions, among others, of who they would likely vote for given the choice in the Republican primary for president.
The results show that 67 percent of voters would prefer a candidate who is focused on restoring law and order in "our streets and at the border" than a candidate who is focused on defeating "radical 'woke' ideology in our schools, media and culture."
In Texas, A&M University settled for $1 million with Dr. Kathleen O. McElroy, after her botched hiring attempt at the university in the middle of the DEI hysteria.
McElroy was hired to revive Texas A&M's journalism program; the university also celebrated her signing an offer letter for a tenured faculty position with a signing ceremony in June.
However, in the weeks to follow, McElroy received a watered-down version of a contract than what was originally offered. The university officials renegotiated her contract due to the conservative backlash of her hiring. Her past experience with diversity initiatives at newsrooms and previous employment at The New York Times was questioned by conservative groups after her hiring was announced.
Recent messages from Texas A&M leaders showed their desire to counter the perceived "liberal agenda" in the media through higher education.
Education has been long used as a political tool, higher education experts say. Recent efforts in Republican states like Texas, North Carolina and Florida have picked up, particularly because the governors are focused on eradicating "woke ideology" which, according to them, is because of how well the Republican base responds to the accusations.
"The notion of woke ideology and how it supposedly has done all this damage to things has just risen as a political talking point," Holden Thorp, former chancellor of the University of North Carolina at Chapel Hill, now a professor at George Washington University, told the Texas Tribune. "It's easy to say the universities are the places that you want to attack this," he said, noting that the argument has increasingly shown to poll well among conservatives.
The Times/Siena poll found a contradiction to this, noting that the arguments have not polled well among conservatives voting for the GOP presidential candidate.
Another question from the Times/Siena poll found that 56 percent of voters prefer a candidate who will stay out of deciding what corporations can support, whereas only 39 percent of the voters would prefer a candidate who "promises to fight corporations that promote "woke" left ideology."
DeSantis has made battling schools and corporations that have a "woke ideology" the center of his campaign — like his standoff with Disney and his state banning AP classes such as Psychology.
DeSantis fails to keep up with former president Donald Trump, who is thrice indicted on multiple federal charges and is currently the front runner for the Republican nomination.
"I don't like the term 'woke,'" Trump said in June while campaigning in Iowa, adding, "It's just a term they use — half the people can't even define it, they don't know what it is."
A clear jab at DeSantis, the Times/Siena poll would find that candidates using "woke" as a punch for social issues are not having the effect they would've hoped on the voters.