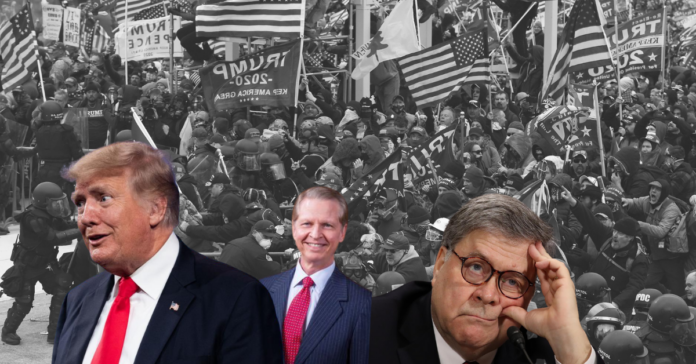 A key component for the surge of the 'Big Lie' came straight out of Texas. Republican businessman Russell J. Ramsland Jr. and his associates became a powerhouse amongst conservative lawmakers, activists, and donors when they started to foment the idea that the 2020 elections were rigged due to faulty voting machines.

Ramsland and fellow conservative activists formed a company, Allied Security Operations Group (ASOG), solely to pitch a claim that seemed rooted into evidence: Voting-machine audit logs — lines of codes and time stamps that document the machines' activities — contained indications of vote manipulation.

According to The Washington Post, after the Nov. 3 election, ASOG played a key role in spreading claims of fraud. They were circulated by Rep. Louie Gohmert (R-Tex.), a staunch Trump ally who had been briefed by ASOG. Ramsland's assertions were also incorporated in the "kraken" lawsuits filed by conservative lawyer Sidney Powell and aired publicly by Rudolph W. Giuliani, then Trump's personal attorney, as they tried to overturn Joe Biden's victories.

The claims eventually caught the desperate eye of former president Donald Trump, who used ASOG's sketchy report to support his claims of election fraud and justify his bid to stay in office.

On Monday, during the second hearing of the Jan. 6, 2021 insurrection, former Trump attorney general William P. Barr, testified that when he met with Trump on Dec. 14, the president claimed to have "definitive evidence involving fraud through the Dominion machines." An "amateurish" report prepared by the obscure Texas firm ASOG, claimed to have evidence of a vast conspiracy to manipulate votes inside Dominion Voting System machines.

The report was debunked almost immediately by officials inside Trump's own Department of Homeland Security and later more thoroughly by a Republican-led committee in the Michigan state senate.

Despite that, Trump thought it was his "smoking gun."

"He said, you know, 'This is absolute proof that the Dominion machines were rigged. The report means that I'm going to have a second term,' " Barr recalled in videotaped testimony played during Monday's hearing.

Barr said he saw no support for the report's conclusion that Dominion machines were "intentionally and purposefully designed with inherent errors to create systemic fraud and influence election results."

"I thought, boy, if he really believes this stuff, he has, you know, lost contact with … he's become detached from reality if he really believes this stuff," Barr said.

The House select committee investigating the Jan. 6, 2021, insurrection asserted in its second hearing that the Capitol attack was the direct result of Donald Trump's repeated baseless claims that the 2020 presidential election was stolen, and the Texas-based ASOG firm played a fundamental role in making the 'Big Lie' – that led to the Capitol attack – go viral.