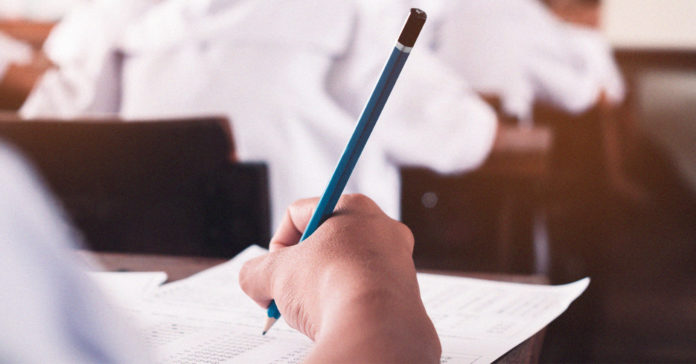 Ordinarily, when I write a column, I write to what my ego would hope to be thousands of readers. Today, however, I write to one person who I hope beyond measure will read this column. Gov. Greg Abbott, this appeal is to you.

At the time of this writing, U.S. Secretary of Education Betsy DeVos has written a letter to all 50 states explaining why no waivers will be granted on testing and why she, someone who has never attended a day of public education in her life, thinks it is vital for standardized testing to take place. In the letter, she equates parents wishing to know how the shutdown affects their children to a desire by parents for standardized testing like the STAAR.

You, sir, are at a crossroads, and you have the opportunity to demonstrate the kind of leadership of which legends are made. I believe we can all agree that the STAAR test is fairly universally hated by parents, teachers, and the general public. Because of that, it is hard to buy into Secretary DeVos's argument that 90% of parents want a test. Literally dozens of state representatives, state senators, and candidates have gone on the record by writing letters to you against the test. Let's look at the issues of stepping up and declaring a moratorium on the test this year.

First, Secretary DeVos claims that we need testing in order to measure the gaps created by the pandemic. In truth, STAAR does no such thing, and in fact, districts already have better platforms like MAP, IStation, DRA, and others to measure such gaps without high-stakes testing. Contrastingly, the STAAR's stated goal is to measure college and career readiness. This is ironic since you would be hard put to find a single university or career which uses the STAAR as a gauge of such a thing.

Secondly, there is the fear that the federal government would withdraw federal funding from public schools. This is a possibility, but let's examine it for a moment. First, federal money only makes up about 10% of the annual budget. It is also doubtful that the federal government has the political will to withdraw special education money, child nutrition money, or Title I money due to potential civil rights litigation as well as political blowback from cutting such programs. Title II, Title III, Title IV, and Perkins (Career and Technology) monies are much more vulnerable, but the truth is that the federal government has been cutting those for three years anyway.
Proposed budgets by this administration have shown a zero allocation in past years, and it has taken Congress to decline those proposals and to fund them at all. Wouldn't it be better to fight for our kids and use those losses as leverage rather than go meekly into the night as they inevitably cut the money with or without testing?

Third, you are faced with a coming budget shortfall next session. As it happens, the testing contract is currently out for bid with an announcement of the contract award expected sometime late this year. Because of that, there is no contractual obligation to pay for a year of un-administered testing. Placing a one-year moratorium could save the state $90 million at a crucial moment and assist with saving jobs.

Finally, you need to recognize that parents who are concerned about COVID-19 and are keeping their children in remote learning are not going to send their kids into the campus to take the test. Any results you get are going to be invalid due to participation rate, and it would be unfair to make any kind of conclusions based on such data.

Sir, your party has turned on you. The Texas GOP chair suggested censure. The Llano County Chair has published a letter calling for you to be primaried. Montgomery County and at least three other traditionally red counties have passed articles of censure against you. All of this spells deep trouble in a couple of years when you run for re-election. However, standing up for our children and against the federal government would be a game-changer. Any criticism of going against the federal administration will be drowned out by approval from both sides of the aisle of a man willing to go against the political current and protect the children of the people he represents.

Governor Abbott, I believe you know in your heart what needs to be done. I believe you do wish to do the right thing. Our children and their teachers are under enough stress in attempting to revolutionize public education at a moment's notice. Are you willing to step up for them, or is partisanship more important than principles and people? I ask that you reach for the intestinal fortitude to fight the fight that needs to be fought and take the stress of high-stakes testing off of our children and schools during this time of crisis. A discussion of whether or not it should be permanent would be more appropriate when the dust has settled. For now, we look to you simply for the leadership to do what is best for our children in a year where little has happened which is for the best for anyone. Please be the man we hope you to be.
Troy Reynolds is founder of Texans for Public Education, a grassroots group dedicated to advocating for Texas public schools. He is also still an active Texas public school educator with 30 years in the field.