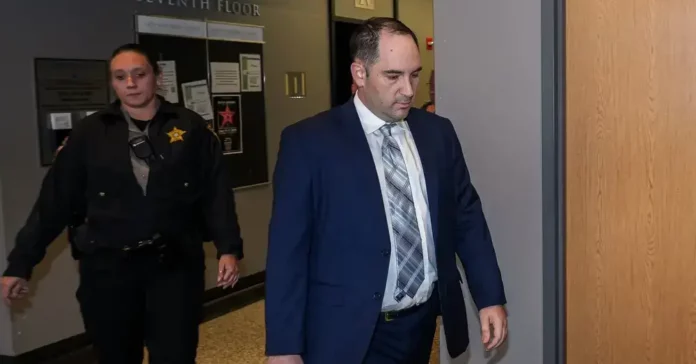 Gov. Greg Abbott directed the Texas Board of Pardons and Paroles to consider recommending a pardon for Daniel Perry on Saturday, one day after a Travis County jury convicted the U.S. Army sergeant in the 2020 murder of Austin protester Garrett Foster.
After 17 hours of deliberations and an eight-day trial, jurors Friday found Perry guilty of murder for shooting and killing Foster, who was armed with an AK-47 as part of a group protesting police brutality. Perry, an Uber driver, had encountered the protest a few blocks from the Capitol in downtown Austin.
Under pressure from conservatives, Abbott announced Saturday that he asked the parole board to review Perry's conviction on an expedited basis. The Texas Constitution, he said, requires the parole board to recommend a pardon before a governor could act.
"I look forward to approving the Board's pardon recommendation as soon as it hits my desk," Abbott said in a statement posted to Twitter.
"Texas has one of the strongest 'Stand Your Ground' laws of self-defense that cannot be nullified by a jury or a progressive District Attorney," Abbott added, repeating conservative criticism leveled against Travis County's Democratic district attorney, José Garza.
Prior to Abbott's announcement, the Republican Party of Texas called on the governor to get involved.
"This case should have never been prosecuted. A pardon by [Abbott] is in order," wrote Texas GOP Chair Matt Rinaldi in a Friday evening post to Twitter.
Tucker Carlson, a conservative commentator on Fox News, covered Perry's conviction on his show Friday evening. Carlson said he had invited Abbott to discuss whether he was considering a pardon for Perry, but said the governor declined.
"So that is Greg Abbott's position, there is no right of self-defense in Texas," Carlson told his viewers.
Based on parole board recommendations, Abbott granted two pardons in 2022, eight in 2021 and seven in 2020 — all for lower-level offenses, including theft, providing alcohol to a minor, assault by contact, burglary of a vehicle, credit card abuse and illegally carrying a firearm.
Perry, found guilty of murder but not guilty of aggravated assault with a deadly weapon, killed Foster during a protest against police brutality on July 25 — one of many that were happening across the country after George Floyd, a Black man, was killed by a white Minneapolis police officer in May 2020.
According to Austin police, Perry was driving for Uber when he stopped his car and honked at protesters as they walked through the street. Seconds later, he drove his car into the crowd, police said.
Foster, who was a 28-year-old white man and an Air Force veteran, had been seen openly carrying an AK-47 rifle at the time, which was legal. There are conflicting accounts as to whether Foster raised the rifle to the driver before Perry, who was also legally armed, shot and killed Foster and fled the area, police said. He called the police and reported what happened, claiming he shot in self-defense after Foster aimed his weapon at him. Perry is also a white man.
Perry's defense argued that the shooting was justified under the state's "stand your ground" law, which allows deadly force to be used by those who feel they are in danger.
Perry's earlier social media posts about retaliating against protesters raised questions about the shooter's state of mind and his self-defense claim.
In his announcement, Abbott also touted legislation seeking to take control away from locally elected prosecutors who he described as "rogue."
A bill intended to rein in district attorneys who decline to pursue certain cases passed the Senate on Wednesday. The bill, a priority for Lt. Gov. Dan Patrick, is part of an effort to limit the power of elected prosecutors, especially in Texas' largest, left-leaning counties.
Several Republicans praised Abbott's promise to work "as swiftly as Texas law allows" to pardon Perry, including Attorney General Ken Paxton, who tweeted that he agreed with Abbott "on this 100%."
But state Sen. Sarah Eckhardt, D-Austin, called Abbott's move "a stunning and dangerous abrogation of the rule of law that will embolden more armed confrontations and inevitable tragedies."
This story originally appeared on the Texas Tribune. To read this article in its original format, click here.