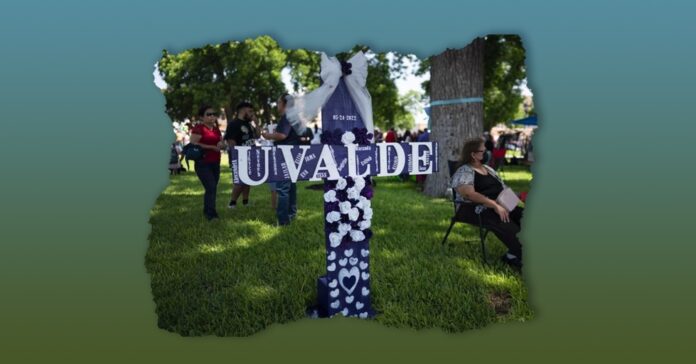 A concerned father, who happens to be a designer, decided to make customized caskets for the 19 children that died at the Uvalde shooting last Wednesday.
When Terry Ganem heard about the mass shooting at the Robb Elementary school, he felt the need to do something. "I'm on my way to help families in this tragic time. I was asked to help with the caskets and talk with families. This is something no family should ever have to deal with. My love and emotions are already there…" he wrote on a Facebook post.
Terry Ganem, who is 50, runs the company SoulShine Industry along with his son and wife based in Edna, Texas. In an act of solidarity, they offered to customize and transport the caskets in which the 19 kids will be buried in the next few weeks.
Terry Ganem went to Uvalde to talk to the families of the victims to learn what the kids liked and craft a unique piece for each one of them. He spoke on the phone with some of the families and visited some others. With the close opinion and description of their loved ones, Terry coordinated colors, animals, and symbols for each casquet according to 5 NBC.
One of the caskets is overflowing with pink and purple and has the stamp of the TikTok logo. Another one has two crossed masks to represent the child's love for the theater.
A big dinosaur holding a flashlight and a pickle painted on the surface, or a unicorn horn coming out of a llama's mouth, are some other details in the caskets that brought laughter to the families. "When the parents are doing something very special for their loved one, and when they get excited, you can take a little bit of their pain and suffering away," said in an interview with 5 NBC.
To bring the caskets in time, Terry had some difficulties. Usually, small caskets are scarce and he had to purchase them from a company in Georgia that worked 20 hours straight to get the order ready. He later asked a friend to hire a truck company and make the 26 hours journey to Georgia according to The Boston Globe.
That's how after three days of hard work, long trips, and almost no sleep, Terry Ganem and his son delivered the caskets that cost nothing to the families. "There's nothing we can ever do to make it easier, but that's our goal: to help the families … start their grieving and their healing and just try to make something special for them," Ganem told Buzzfeed.