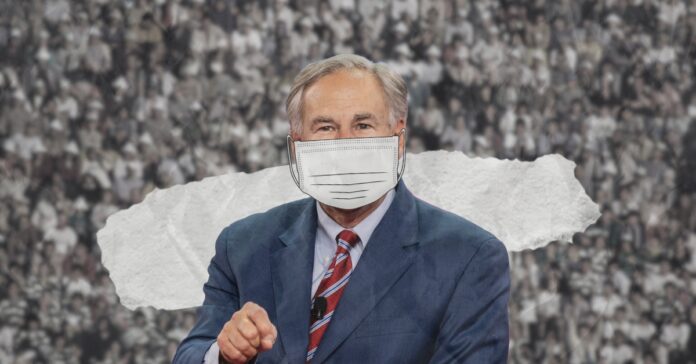 Governor Greg Abbott is the last governor to relinquish the emergency powers granted to him when the COVID pandemic started three years ago. He says he will finally give them up this week now that the Texas Legislature has codified bans on life-saving measures used to prevent the spread of disease.
The recently signed Senate Bill 29 prohibits local governments from using evidence-based safety protocols such as mask mandates, vaccinations, or government shutdowns. A measure to expand the measure to include private businesses died in the House. Abbott is apparently now satisfied enough that local governments cannot fight future outbreaks without the state's blessing, and announced he will step down from his emergency powers roles.
"I was seeking legislation this session that would override those local jurisdictions before I took down my disaster declaration," Abbott said Monday. "They passed that legislation and, as a result, when the disaster declaration comes up for renewal later on this month, I will not renew it."
In addition, Abbott sent letters to the Texas Supreme Court regarding three consolidated cases challenging his executive order to ban mask mandates, saying that the new law makes the entire case moot.
In the early days of the pandemic, Abbott instituted many protective measures including quarantines and universal remote learning. However, by the end of the year COVID had become a culture war, with Republicans largely dismissing the danger and considering mask mandates to be government encroachments on freedom. Texas was one of the first states to re-open, and Abbott spent the next year squabbling with local governments who tried to fight infection spikes with vaccine drives and closures.
Despite fighting anti-COVID measures tooth and nail through executive order and the courts, Abbott was keen to continue using the emergency powers granted to him by the pandemic. His ill-fated border war, Operation Lone Star, was largely launched using anti-COVID reasoning and was buoyed by his emergency powers.
With those gone, it's possible that the $4 billion debacle might wind down some. Or, with anti-immigrant sentiment high, it could be that Abbott no longer feels he needs the emergency powers to continue his actions. As recently as last month, he was still leaning on Title 42, a Trump-era rule that allowed mass stoppage to prevent the spread of disease, to justify Lone Star. The matter of Title 42 is still tied up in the courts, even as President Biden tires to end it.
"With the ending of Title 42 on Thursday, President Biden is laying down the welcome mat to people across the entire world, but Texas is deploying our new Texas Tactical Border Force," said Governor Abbott in a statement. The Texas National Guard is loading Blackhawk helicopters and C-130s and deploying specially trained soldiers for the Texas Tactical Border Force, who will be deployed to hotspots all along the border to help intercept and repel large groups of migrants trying to enter Texas illegally."