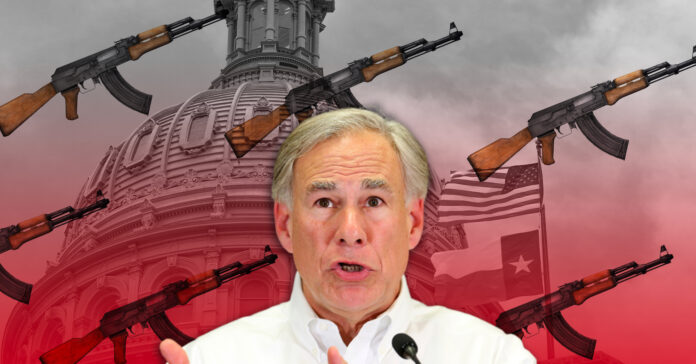 Texas Gov. Greg Abbott is generating national criticism for referring to Friday's mass shooting victims in Cleveland, Texas as "illegal immigrants." Abbott made the comment in a statement ostensibly intended to offer "condolences" to the families of the victims, but which appeared to many as more of a backhanded insult.
"Our hearts go out to the families and loved ones of the five victims that were taken in this senseless act of violence," the statement read, but only after mentioning that the victims were "five illegal immigrants."
To add insult to injury, the statement appears to be partially inaccurate, as an immigrant rights activist has said on Twitter that at least one victim was here legally and showed a picture of her legal identification.
"I just spoke to the husband of one of the victims," said Carlos Eduardo Espina. "He confirmed to me that his wife was a permanent resident of the US. He even sent me a picture of her ID confirming this. But I guess to Greg Abbott, anyone who is from another country is an 'ilegal immigrant'. Shameful."
George Takei, the "Star Trek" actor who lived with his parents in internment camps during World War II, wrote on Twitter, "This is despicable. I would have thought bringing up the immigration status of the innocent victims of this senseless violence would be beneath even you. But I was wrong,"
MSNBC Morning Joe host Joe Scarborough ripped Abbott on his show.
"Maybe he's part of this Christian nationalist movement, but what would Jesus do? You don't have to be a Bible scholar to know: not that. What a dreadful, shameful thing," Scarborough said.
Fred Guttenberg, whose daughter Jamie was killed in Florida's Parkland high school mass shooting in 2018, tweeted a response to Abbott: "On behalf of those like my daughter who are victims of gun violence, F*** YOU!!!"
Abbott's actions have also drawn negative attention from a Washington Post columnist and Insider.