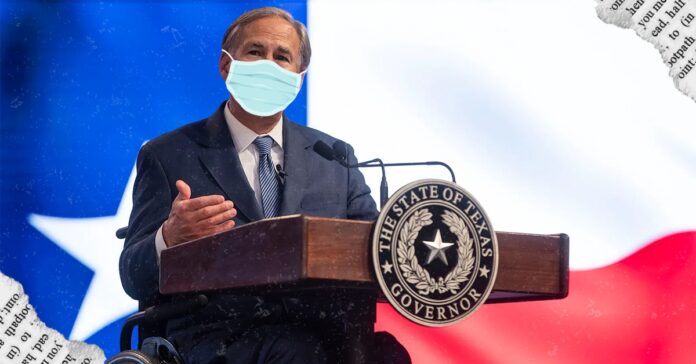 During the COVID outbreak, Governor Greg Abbott assumed widespread powers thanks to a declaration of emergency. Despite the wind down of the pandemic, Abbott is trying to keep those powers.
During Abbott's State of the State address last week, he promised to continue using his office to fight against any future anti-outbreak efforts, including mask mandates, vaccine mandates, and public closures. Abbott initially complied with many of the recommendations for public safety in the early days of the outbreak, but quickly transitioned to opposing any measures that could affect trade or personal liberty. These included fighting county judges in big, mostly-Democratic cities that tried to keep protocols in place to handle continued infection and death tolls.
On Wednesday, Abbott's Chief of Staff Gardner Pate testified to the Texas House Appropriations Committee that Abbott plans on keeping the assumed powers until the legislature approves them in perpetuity. Among the many powers that Abbott wants to maintain are increased border security that allows the quick deportation of immigrants and overriding the operation of voting locations. Abbott has said that he wants these abilities made a permanent part of the legal code as a bulwark against federal overreach.
The tone of Pate's testimony and subsequent interviews with Abbott implies that Abbott is only reluctantly keeping his emergency powers because the Biden Administration threatens Texas with open borders and forced vaccination. Part of Abbott's pitch is that a new law would require the legislature to be called back into session upon the declaration of an emergency for oversight purposes.
However, this is in direct opposition to the actions of Abbott over the course of three terms. He has steadily assumed more and more direct control over the state government. Operation Lone Star, his deployment of the Texas National Guard to the southern border, has afforded him an incredible amount of leeway when it comes to the state budget. Through juggling and siphoning off funds from social programs, Abbott has essentially funded a personal war against immigration with little budgetary oversight from the legislature.
This is in addition to the fact that Abbott has virtually made the Texas Rangers a police force that answers to him. Allegations of stymied investigations into political allies and a lack of direction when it comes to pursuing fatal negligence in county jails are just some of the things the Rangers have been accused of as Abbott leads them. He has also put more and more law enforcement, just as the Crime Stoppers tip line, under his control by making their funding beholden to executive offices.
Traditionally, the Governor of Texas has been one of the weaker state executives in the country. The Lieutenant Governor controls the Texas Senate, and used to have far more power when it came to laws. That changed with Abbott, who has used executive order and fiat to slowly pull the power structure under himself. The vast majority of state governors have ended their states of emergency. Abbott is prepared to never do so unless his office receives a blank check from the legislature to wield more power than any Texas governor ever has before.