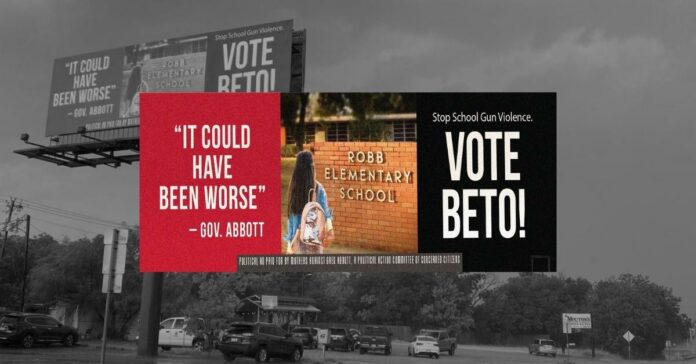 Ensuring that no Texan forgets the tragic May shooting at Robb Elementary, Mothers Against Greg Abbott, a women-led political action committee, put up an anti-Abbott billboard that encourages voters to "Stop School Gun Violence" and "Vote for Beto!" 

"It could have been worse," Gov. Greg Abbott's famous statement is also plastered on the billboard, alongside the image of a student entering Robb Elementary.

The tragic murders of nineteen children and two teachers, will forever be ingrained in the heart of the Uvalde community, however, MAGA is making sure every Texan who drives westbound on U.S. 90 from San Antonio toward Uvalde, is reminded of Abbott's inaction on gun reform.

Abbott has failed to limit access to firearms, on the contrary, over the past few years, he has signed several bills into law easing gun restrictions, including legislation allowing Texans to carry handguns – without training or a license.

Mothers Against Greg Abbott have raised $75,000 to erect sixteen billboards advocating for Democratic gubernatorial candidate Beto O'Rourke, the first five of which went up in August, as reported by Texas Monthly. 
The PAC said it will continue to fund-raise money for signage and ads with various pro-Beto, anti-Abbott messaging in the lead-up to the election in November.