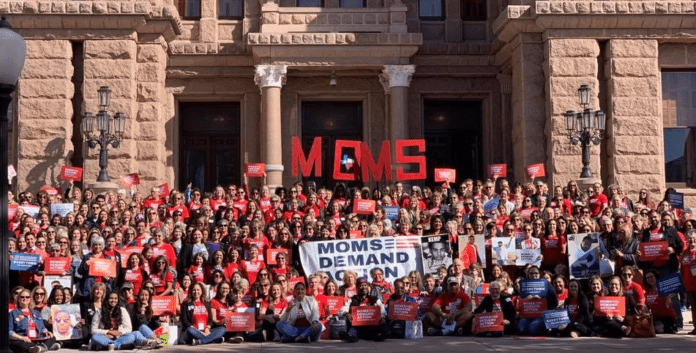 Members of Moms Demand Action – TX at Lobby Day
Valentine's Day usually signifies love and romance. However, for Parkland students, it marks the one year anniversary of the horrific shooting which left 17 dead. The meaning of the holiday forever changed, but also sparked a national movement advocating for changes in current gun laws. This movement swept through Texas when Santa Fe students faced the same grim fate where 8 students and 2 teachers were left dead in May.
On February 13th, hundreds of volunteers with the Moms Demand Action – Texas Chapter wore red as they marched to the capitol, some carrying pictures of loved ones who were killed due to gun violence, to speak with legislators about passing stricter gun laws. One such law- the Red Flag law- would allow a judge to temporarily prohibit someone who poses a danger to themselves or others, from gaining access to guns. The group was met with applause and cheers by female legislators and the audience when recognized by Rep. Gina Hinojosa (D-Austin).
The increased discussion and spotlight on gun reform has also engaged those who oppose gun reform. Open Carry Texas members also gathered at the Capitol yesterday to discuss gun rights and were recognized on the House floor by Rep. Jonathan Stickland (R-Bedford) who said, "thank you all for being here and getting involved and protecting your rights." On the group's Facebook page they referred to Moms Demand Action-TX saying, "the mad mommies demanding communism in Texas bussed in their people today to encourage legislators to violate your rights."


Members of Open Carry Texas in the House Gallery
Arriving at a resolution to gun reform will not be easy with advocates arguing that Red Flag laws are necessary for the safety of children and society at large, and opponents arguing that it is unconstitutional. However, one item both advocates and opponents agree on is that legislators need to increase the focus on mental health.
Less than one month remains for the legislation filing period and we foresee additional gun-related bills will be filed. Reform Austin will continue to track and update you on this issue.