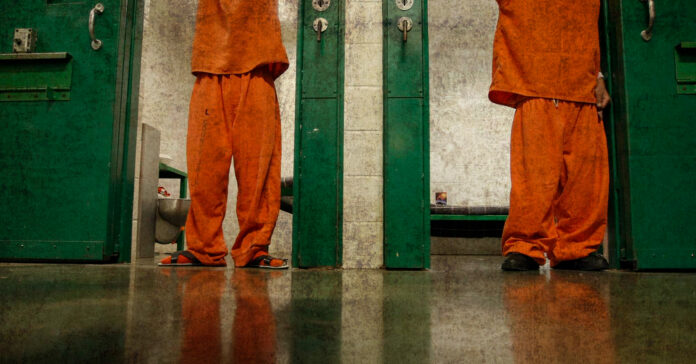 Last weekend two people died at the Harris County Jail, bringing their death toll up to 21 people in just this year. That is the most deaths at the massive jail complex since 2006 when 22 people died, according to the Texas Justice Initiative.

Activists say this illustrates the danger of  "Overpopulated jails and an unfair criminal justice system."

According to The Houston Chronicle, most of the county's 10,000-plus detainees have not been convicted of the crimes they're locked up for; they are awaiting trial, and if there's a bond in their case, they are unable to afford it.

Neither of the two people who died were charged with a violent offense, court records show. Bryan Johnson, 35, of Houston, was charged with being a felon in possession of a weapon and evading arrest. Victoria Simon, 42, was arrested on a drug possession warrant out of Fort Bend County.

Johnson died on Saturday after complaining of chest pain and collapsing. He was being held on a $15,000 bond.

Simon was found unresponsive in her cell on Sunday morning, according to the sheriff's office. She was being detained on a $5,000 bond.

"I wish I could say I was surprised, but given everything we hear from inside the jail about the lack of access to health care and how overloaded the system is, this won't be the last of it, and I think we're going to see more," said Krishnaveni Gundu, executive director of the Texas Jail Project.

Shannon Herklotz, chief of detentions at the jail, told The Houston Chronicle in July
that there was no other option than outsourcing Harris County inmates to the West Texas location.

However, according to criminal justice advocates, the problem of overcrowded jails is "self-inflicted," caused by a punitive cash bail system that keeps people in custody while they await trial. For example, Senate Bill 6 limits the ability of judges to assign cashless bail to certain defendants and worsens the backlog for judges.

Krishnaveni Gundu, executive director of the Texas Jail Project, told The Houston Chronicle, the bail system criminalizes poverty and it has been proven to be ineffective in combating violent crime.

"If you look at who gets stuck in our jails, it's the people who are too poor to buy their freedom," Gundu said.