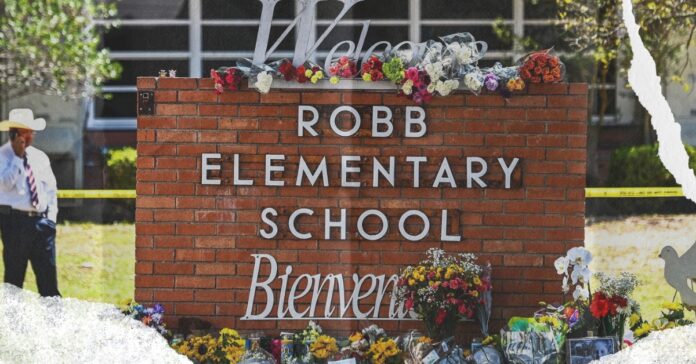 A year ago, an 18-year-old kid with an assault rifle killed nineteen fourth-graders and two teachers at Robb Elementary School in Uvalde, Texas. The gunman, Salvador Ramos, massacred the students while officers waited outside for more than an hour before engaging him. It's been a year since the shooting, and families of the victims are still grieving, whilst fighting for gun control and answers.
The Robb Elementary School shooting is the third-deadliest school shooting in the U.S. after the Sandy Hook Elementary Massacre in 2012 and the Virginia Tech Massacre in 2007.
In this past year, the victim's families have fought for new restrictions and more transparency, but the government presented resistance to cooperating.
After the shooting, Governor Greg Abbott publicly condemned the massacre, but instead of addressing Texas' mass shooting problem, he blamed the Uvalde massacre on mental health – while at the same time cutting a lot of mental health spending.
At the state Capitol in Texas, families showed up repeatedly to push a bill that would have raised the age to buy semi-automatic rifles from 18 to 21, but the bill barely got a vote and never made it out of committee.

On the front lines of the fight was State Sen. Roland Gutierrez, representing the Uvalde district, who spent the last five months trying to pass bills that would restrict young adults' access to semi-automatic rifles. Guiterrez's final attempt -amending another gun bill to raise the minimum age – failed just days before the one-year anniversary of the Robb Elementary massacre.

Looking Back
The gun used in the massacre, an AR-15, is a rifle designed for war. There are reports that the police were afraid of this weapon, which was one of the reasons why they waited more than an hour before entering the school.
Some of the initial statements given by Texas authorities had inaccurate or incomplete information, and even to this day, there is information that families of the victims are trying to get, without success. Sixteen victims' families are fighting for more information about the shooting. According to a report by The Wall Street Journal, Josh Koskoff, an attorney specializing in mass shootings, has tried to gain access to more information about the shooting kept by Uvalde-area District Attorney Christiana Mitchell.
Mitchell ordered not to release information, saying that her office was planning to review potential charges.
"She has a job to do, we get that, but so do we, and the families have a right to this," said Koskoff to The Wall Street Journal. "There's a great amount of frustration with the DA's lack of engagement with us, and a feeling of being stonewalled."
The city of Uvalde sued Mitchell in December allegedly for blocking city officials from the information they needed, however, the suit was dismissed.
A school board meeting was held this month in Uvalde, and families expressed their concerns. "Almost a year now, and honestly nothing has changed," Jesse Rizo, the uncle of one of the massacre victims, told the board. "These people are pretty much begging you guys to answer questions. You came here and you pretty much oppress people. They ask you questions, you don't have answers."
There are still ongoing investigations to determine if a quicker response from the police would have helped to save lives, as the authorities have been widely criticized for their slow actions.
A year has passed, and the city of Uvalde is still recovering from the damage, but there are still differences between people who want gun control and those who still want to have their guns.

According to a report by the New York Times, the gunman's mother -and the first person being shot that day- has addressed the families "I know my son was a coward, you don't think I don't know that?" she said. "You don't think I'm carrying all that with me? I know. And I'm sorry."
A year has passed, and survivors and families of the victims are still fighting for answers and justice.

Abbott's Actions

Ever since the start of his career, Abbott has overseen legislative changes to allow Texans even greater firearm freedom. In just the seven years that he has served as governor, dozens of people have been killed in mass shootings across the state, and not much has been done to tighten the state's gun laws, on the contrary, they remain the least restrictive in the United States.
So far, this session did nothing to change that. The bill that appears most likely to pass at this point is Senate Bill 11, authored by Sen. King Nichols, which is a school safety bill that would increase funding to $100 per ADA and $15,000 per campus. It would also implement Mental Health training for all employees who have regular interaction with students and it would require TEA to monitor school district safety and security requirements, conducting audits once a year.

However, no bill to restrict gun access will be passed during this legislative session.
Track Record
2016: In his first term, Abbott paved the way for an "open carry" law, that allows licensed Texans to tote their handguns in public, and "campus carry," extending those permissions to colleges.

2017: 26 congregants were killed at a Baptist church in Southern Texas.

Abbott declared: the best way to prevent mass shootings was "by using the forces of God".

2018: A 17-year-old gunman opened fire and killed 10 students at a Santa Fe high school.

Abbott called for prayer, but also discussed expanding background checks, banning assault weapons, and passing "red flag laws."

2019: After those two mass shootings where 36 people died, lawmakers passed legislation to bolster the number of school marshals and to increase mental health resources. They also passed a law allowing people to carry guns at places of worship, as reported by the Fort Worth Star-Telegram.

None of those laws restricted access to guns.

2019: A gunman killed 22 people at a Walmart in El Paso and another killed seven others and wounded at least 21 more in Midland-Odessa .

Abbott announced two task forces: The Texas Safety Commission and the Domestic Terrorism Task Force. He also issued a Texas Safety Action Report that included background checks for private gun sales.

Those proposals didn't make it into law.

2021:  Last year, Abbott relaxed open carry rules even further. The legislature passed into law a "constitutional carry" bill that now means anyone in Texas over the age of 21 can carry a handgun without a permit.

"You could say that I signed into law today some laws that protect gun rights," he said at the bill signing.

"But today, I signed documents that instilled freedom in the Lone Star state."

2022: A gunman killed 19 elementary school children and their two teachers in Uvalde.

Although the gunman who killed 21 people had no known history of mental illness, Abbott believed that the area near the school lacked sufficient access to mental health care.

"We as a state, we as a society, need to do a better job with mental health," he said.

The families from Uvalde pleaded for Abbott to grant their wishes to make 21 the minimum age to purchase combat-style rifles. The governor, however, remained unwilling to reconsider any restrictions on gun purchases.

There was no special session after Uvalde, and Abbott made no specific proposals for legislation that would address gun violence for the 88th legislative session.

2023: In four minutes a neo-Nazi with an arsenal of firearms killed eight people and wounded seven others at a Dallas-area shopping center.

Meanwhile, Abbott blamed the incident on mental health issues as he's done with previous mass shootings in the state. He said addressing mental health — not tightening gun laws — can prevent shootings such as the one in the outdoor mall in Allen.

Texas ranks last in the U.S. when it comes to access to mental health care, including a lack of mental health services, and a high number of those uninsured, according to a recent report from nonprofit Mental Health America.
To learn more about gun violence in Texas, see the RA News Gun Violence Watch page.