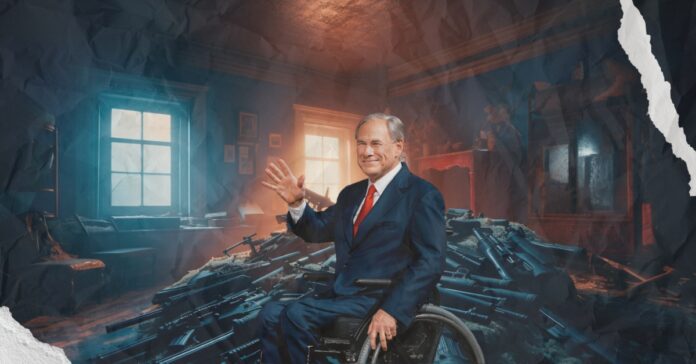 Another mass shooting in Texas left eight people dead and seven more injured over the weekend. Despite this, Governor Greg Abbott has vowed that no new gun control will be passed in the legislative session, citing mental health as the primary cause rather than easy access to firearms.
"We are working to address that anger and violence by going to its root cause, which is addressing the mental health problems behind it," he said in an interview on Fox News Sunday. "People want a quick solution. The long-term solution here is to address the mental health issue."
Setting aside the fact that every other wealthy country in the world has mentally ill people and yet have a tiny fraction of the mass shootings that America does, Texas Republicans have long failed to actually put significant funds toward mental health. It's true that recent bills, including Senate Bill 26, would offer $15 million worth of grants to nonprofits that treat mental illness. Abbott himself vowed to double the state's spending on student mental health in his inaugural address.
However, Abbott has also spent the last few years slashing mental health treatment budgets. CNN's Pamela Brown reported that he cut more than $100 million from the state's Health and Human Services Commission, the department that oversees much of the state's mental health treatment, since 2021. The money was funneled toward Operation Lone Star, the governor's deployment of the National Guard to the southern border.
Abbott responded to Brown's reporting by saying he had enabled billions in grants to address mental health treatment, but surveys consistently show that Texas ranks near or dead last when it comes to money spent treating mental illness. According to Mental Health America, Texas ranks third when it comes to the number of adults living with mental illness in America and 51st when it comes to access to mental health resources. The problem is exacerbated by Texas's continued refusal to expand Medicaid for low-income Texans, who often can't afford treatment.
Even if one assumes that mental health is the driving force behind the sharp increase in the number of gun deaths since Abbott assumed office, Texas Republicans have not sought to address the matter with funds. Announcements about grants in the millions are overshadowed by cuts in the tens of millions being used to finance anti-immigrant operations. While there was a major spike in mental health and substance abuse funding in 2021 ($926 million), it's fallen to the lowest it's been since 2015 ($139 million).
Meanwhile, Texas Republicans have consistently rolled back gun regulations. The result has been a 62.5 percent increase in mass shootings since permitless carry was adopted. Calls from shooting victims to enact gun control have fallen on deaf ears, though Republicans on the House Select Committee on Community Safety did finally pass a measure that would raise the age to buy an AR-style assault rifle to 21. The move has of course been vilified as an infringement on gun owners' rights by advocacy groups.
To learn more about gun violence in Texas, visit the RA News Gun Violence Watch page.