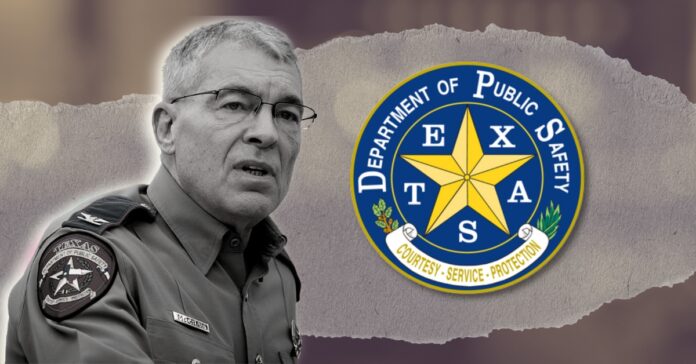 As the Texas Department of Public Safety agency faces heavy criticism over its response to the deadly elementary school shooting in Uvalde in May, the agency is proposing a $1.2 billion training academy to focus law enforcement on active shooter drill preparation.
DPS Director Steve McCraw said the proposed center, which would eventually include dormitories, a cafeteria, and other elements — be constructed at its training center north of Austin. It would become a full-time statewide law enforcement academy — starting with a state-of-the-art active-shooter facility — that would require a near half-billion-dollar investment from Texas taxpayers next year.
A requested $466.6 million "down payment," as McCraw called it, would be required in the state's 2024-25 budget, which won't be final until the summer of next year.
Last month, according to the Texas Tribune, McCraw asked state budget officials for funding for the new facility, saying that "You play like you practice. You need to practice in a real environment."
The facility is the DPS response to the Robb Elementary tragedy, which saw law enforcement officers from several agencies taking over 70 minutes to storm the classroom where a gunman murdered 19 students and two teachers using an assault-style rifle.
The agency is under intense scrutiny following the tragedy. DPS Texas state police Capt. Joel Betancourt is under investigation for not taking action sooner. Betancourt, a 15-year DPS veteran "tried to delay" further action by the team, saying he thought it best to wait for a more highly skilled federal team. However, despite Betancourt's orders, members of DPS entered the building anyway, saying his orders were against established training.
Betancourt is one of seven troopers under an investigation from the inspector general's office for their response to the shooting. Nearly 400 law enforcement officers were on hand that day and 91 of them were DPS troopers.
The new training facility McCraw proposed would utilize an existing program called ALERRT — Advanced Law Enforcement Rapid Training Program — which is the current gold standard for police training regarding mass shooter drills. McCraw advocates for the new "state of the art" facility, adding that "currently one does not exist in Texas."
The ALERRT program was founded at Texas State University in San Marcos Three years after the 1999 shooting at Columbine High School in Colorado left 12 students and a teacher dead. The training prepares officers for active-shooter situations to confront shooters immediately, even if an officer is alone at the scene.
Law enforcement officers from across the nation already train in Texas using the ALERRT program to prepare them to handle mass shooting incidents. Following the controversial failed response in Uvalde, the program has seen an increase in requests for training sessions, said Pete Blair, ALERRT's executive director.
Blair told the Texas Tribune that he hasn't seen the DPS plans for the proposed site, but stated that any facility that would be considered state-of-the-art would likely include reconfigurable walls, cameras, and similar technological upgrades.
He compared it to the fabled training facility in Quantico, Virginia, which has 17 structures including a school scenario at the federal Military Operations.
Following the Uvalde tragedy in May, Gov. Greg Abbott directed the ALERRT program to fast-track training for Texas school district police officers before the start of the new school year this past fall.
At that time there was no mention of any plans by the DPS to build a new facility.
"We sadly recognize we cannot do anything to bring back the precious lives that were taken; however, we must do everything in our power to prevent the same tragic ending from happening again," Abbott said in a June 6 letter to Blair.
"An important part of these prevention efforts must focus on the proper training of law enforcement and school administrators on how to respond when they face the threat of an active shooter on their campus," Abbott's letter continued.
That month Abbott and GOP state leaders transferred $50 million from surplus education funds to purchase bullet-resistant shields, $7 million for rapid-response training by the ALERRT center, and $3 million for local agencies to offset travel costs to attend the training.
As Democratic lawmakers argued for more gun control measures, Abbott and GOP leaders focused primarily on school security and more resources for police while blaming the incident on mental health issues, infamously saying "it could have been worse."
And rather than reconsider his reckless weakening of state gun laws that experts say have led to increasing gun violence in the state, Abbott doubled down on training as the solution.
But law enforcement experts say there is no guarantee that police officers will follow their training when confronting a shooter, no matter how much training they have.
Texas police departments have been trying to reassure local communities that their officers are prepared to handle mass shooters following Uvalde, and have been reminding officers of their training tactics.
Marfa Chief of Police Estevan Marquez told the Texas Tribune that he was deeply disturbed by images of parents and students pleading with law enforcement officers to take action at Robb Elementary School before a federal tactical team breached the bloody classroom and fatally shot the 18-year-old gunman.
"I keep telling my officers, 'I don't want to ever have to go through that,'" Marquez said. "'I don't want you guys to ever just be standing around when innocent children are being shot in the school, in the classroom."