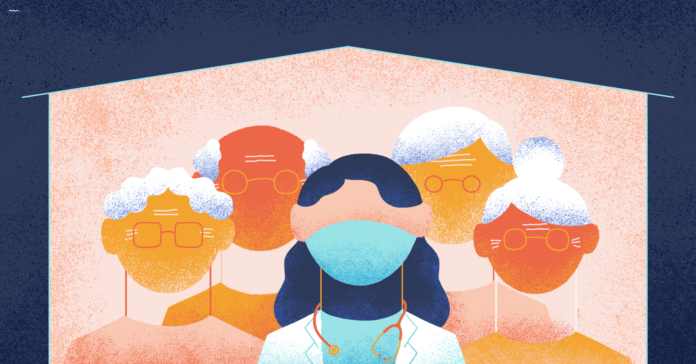 At least 320 Texas nursing home residents and staffers have tested positive for COVID-19, and at least 18 have died. But those numbers probably underrepresent the extent of coronavirus outbreaks at Texas nursing homes. 
Nursing home residents, people over 65 and those with certain health conditions are at higher risk of becoming severely ill from COVID-19, according to the Centers for Disease Control and Prevention. 
In addition, some Texas facilities have been ranked low for their quality of care, and some are under-regulated and underfunded and have been repeatedly cited for not following protocols to prevent infections. 
Over the last three years, the federal government has cited more than 80 percent of nursing homes in Texas for not following proper protocol to prevent infections, according to the Austin American-Statesman. 
Texas nursing homes have run low on supplies related to COVID-19, the Texas Health Care Association said in a March 12 update.
"THCA has heard from many providers about supply shortages of hand sanitizer, masks, and gowns, which could impact providers' ability to handle a potential COVID-19 outbreak. THCA has been communicating with providers and suppliers about the availability of additional supplies; however, concern remains as resources are being used. Providers are being urged to communicate with their local health department if they are unable to acquire these needed supplies."
Wednesday during a coronavirus press conference, Gov. Greg Abbott mentioned nursing homes and praised teams' responses to the rising case numbers in nursing homes across the state. 
Abbott also referred to six residents of the Denton State Supported Living Center, which is a state-run home for people with disabilities, who tested positive for COVID-19. Abbott said his response team made sure they had all the resources they need to respond and to identify anyone else who is positive. 
Here is a roundup of Texas nursing homes affected by COVID-19.
Tarrant County confirmed five coronavirus cases at the Texas Masonic Retirement Center in Arlington, The Dallas Morning News reported Wednesday. All 263 residents and staff were tested for COVID-19. The order was in response to a 77-year-old resident who contracted COVID-19 and died in mid-March.
More than 80 residents and workers have tested positive for COVID-19 at the Resort at Texas City, the Texas Tribune reported. A drug that has not been tested as a COVID-19 treatment — but that the president believes may work — is being prescribed to residents there — 27, so far. 
The "proactive approach" at the Texas City home is causing speculation and skepticism throughout the country.  A fence builder visited his sick mother there Friday. He spent five hours with her, he hugged her, held her hand and kissed her forehead. As he was trying to leave, a nursing home employee told him his mother had the virus, The New York Times reported. She died Saturday. He said he wouldn't have visited so long if he knew ahead of time of her condition, and he has been grieving in self-quarantine.
There have been 10 deaths in nursing homes, and the patients at nursing homes make up for half of the COVID-19 related deaths in Bexar County, KSAT in San Antonio reported Tuesday. 
In Austin, two separate isolation units are being put into operation to meet the needs of nursing home residents who contract COVID-19, KXAN reported.
Also this week, KXAN looked into the lack of personal protective equipment at long-term care facilities. One family member of an elderly woman who died on March 25 at Gracy Woods Nursing Center in North Austin shared that when he visited, every worker was without gowns or any protective gear. Personal protective equipment has been a concern in hospitals. Some have questioned whether it should have been made a priority earlier for nursing homes, too.
"What's the point if, you know, you are trying to prevent it, but it's already in the facility, and you hadn't given the proper protection a week prior."

Employees and families from nursing homes across Austin are asking KXAN why more wasn't done sooner: https://t.co/gFqcBx1wRt

— Avery Travis (@averytravistv) April 8, 2020
More than 34 residents and staff at the LaPorte Healthcare Center, an assisted living facility, have tested positive for COVID-19. Houston Public Media's Houston Matters aired a segment Wednesday about the outbreak and dove into the challenges of stopping the spread. One difficulty can be physical space, especially for residents who aren't in a private room.

"Every facility is different, from layout and every facility has a different plan in place," said Dr. Sherri Onyiego, a Harris County public health official. "Disinfection measures may be a challenge for some facilities."