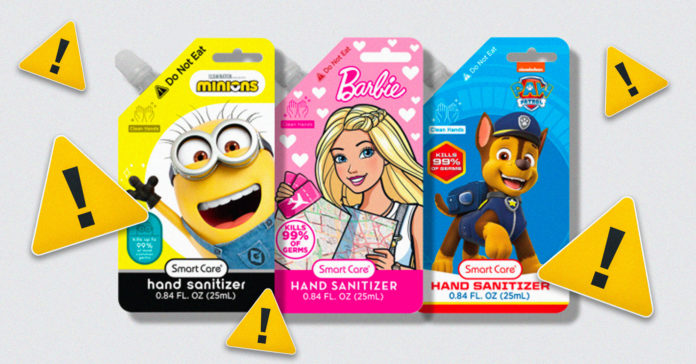 The Texas Poison Center Network is warning parents about hand sanitizer that is packaged to look like food and drink products such as applesauce pouches.
Young children may mistake the pouches for snacks and wind up eating the contents.
From the start of the pandemic to Sept. 25, 1,528 calls were made to the Texas poison Center Network for exposure to ethanol-based hand sanitizers. That's about 9% of all of the calls coming in.
There have been other warnings about hand sanitizer packaging that looks like candy or toys. Also, hand sanitizer is being packaged in beer cans and juice bottles. 
"Please consider avoiding the purchase of these items as this can prevent an accidental poisoning. Keep all sanitizer products up, away, and out of reach of little ones, and always separate from food," said Melinda Crockom with the Commission on State Emergency Communications on Tuesday.
At the end of August, the U.S. Food and Drug Administration warned about how alcohol-based hand sanitizer could cause injury or death when ingested.
Packaging can be deceiving.
"These products could confuse consumers into accidentally ingesting a potentially deadly product. It's dangerous to add scents with food flavors to hand sanitizers which children could think smells like food, eat and get alcohol poisoning," said FDA Commissioner Dr. Stephen M. Hahn at the time.
Also in August, Dr. Shawn Varney, medical director of the South Texas Poison Center based at UT Health San Antonio told KSAT about the dangers of drinking even small amounts of sanitizer. 
"We worry about hand sanitizer because it does contain about 70% ethanol. Ethanol is drinking alcohol," he said.
Even small amounts of alcohol can be lethal to small children.
If you have questions or concerns regarding sanitizer products, call your local poison center at 1-800-222-1222.