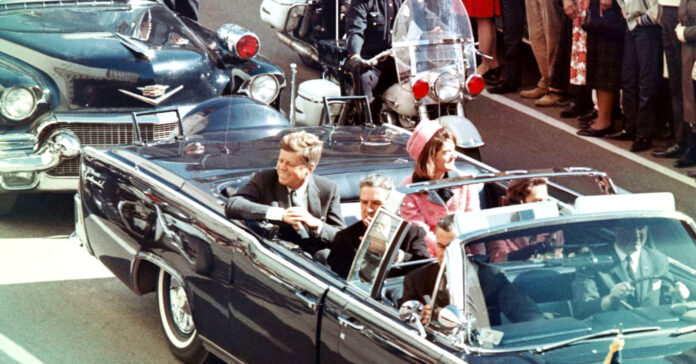 The antisemitic QAnon member, Michael Protzman, gained notoriety after predicting the resurrection of President John F. Kennedy. He and his followers have gathered in Dallas, where they await signs of the President's return. Even the majority of QAnon members think it's nuts.
Protzman has made a plethora of bizarre claims: JFK being disguised as Donald Trump at a rally last month, Melania Trump being the Queen of Russia, and Princess Diana in disguise. He even tells his followers he's the "second coming of Christ."
The odd, cult-like group has regressed into something more sinister. Protzman is uprooting his followers from their families and driving them into isolation as they flock to him. Vice News has spoken with one of these families, which lost a mother to Protzman.
Patricia had visited Protzman in Dallas several times before but had always come back after a few days. Then she said she was leaving for good in November. After she cut off contact, her family became concerned. They asked the police for help. However, the police were unable to do anything. Eventually, they were able to admit Patricia to a psychiatric institution.
The family believed the worst to be over until they received a letter.
"​​The search for JFK Jr. turned into a much more meaningful one, a much more intense spiritual one. I need to say the path I took was, and is still, a very spiritual walk with God," Patricia wrote to her husband.
"What I do mourn is the loss of our marriage," the letter continued. "I have come to that conclusion and I know it's something I have given a lot of thought to. I can't go back. I can't live in the past. Thank you so much for the years we shared, it was full of many wonderful memories that I will always treasure."
"I'm sure you have questions and I intend on answering them. It's with a heavy heart that I send you this letter, but I am very happy to be giving everything up for my walk with God. I will always love you."
After leaving the institution, Patricia returned to Protzman with a fellow group member. Her family has not heard from her since.
Protzman's treatment of his followers has also degraded over time. He verbally abuses those who attempt to interrupt him, kicking followers out of chat rooms and insulting others. He recently issued instructions telling his followers how to conduct themselves around him. One family reported group members are asked to drink a solution of industrial bleach from a ceremonial bowl together.
Former Trump advisor Roger Stone and GOP Oklahoma Senate candidate Jackson Lahameyer have visited the group and have taken pictures with them.