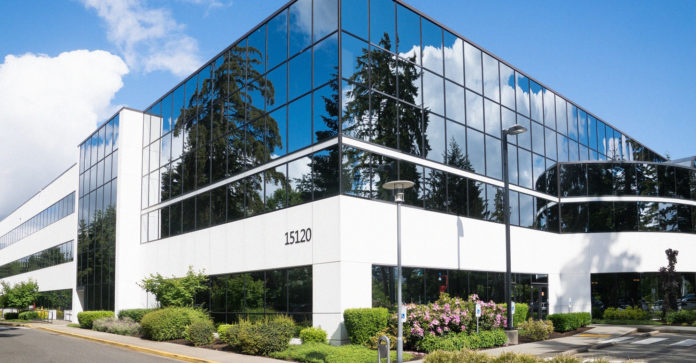 As businesses return to work with the pandemic still underway, employers need to be mindful while reimagining their workspaces and offices in efforts to keep employees safe and healthy.
Starting May 18, as long as there is social distancing, Gov. Greg Abbott has permitted businesses to open.
"We are supportive of Governor Abbott's plan to open Texas businesses slowly, and we are pleased he is listening to the advice of the four physicians on his strike team and looking carefully at the data. Texans did a great job of social distancing and staying at home long enough to get the curve flattened and to give us time to open hospital beds and secure more protective person equipment and more ventilators for when we do see cases of COVID-19," said Dr. Diana L. Fite, Houston emergency physician and president of the Texas Medical Association.
Here are recommendations.
The key factor is social distancing (maintaining at least six feet of distance), Dr. Fite said.
If a person feels sick, they need to stay home. People who have existing medical conditions or are 65 or older also need to stay home, Dr. Fite wrote in an email.
"Wearing masks is important to prevent people from touching their faces (especially eyes, nose, and mouth), which can easily spread the virus; plus masks to help prevent spread from coughing and sneezing," Dr. Fite wrote. "However, the masks do not prevent people from catching the virus if they are in close proximity to someone who has it. Washing hands frequently and disinfecting touched surfaces often should be considered in reopening businesses."
She also recommends checking temperatures to look for possible signs of illness.
Bob Harvey, president and CEO of Greater Houston Partnership agrees. Employees can expect to have their temperature taken at their workplace as a preventive action to not create a second wave of infections, he told KHOU on Wednesday.
Touchless doors and one-way traffic in buildings are other potentially helpful steps, David Euscher, vice president and interiors studio director for Corgan in Houston told KHOU.
Health Care Access
On-site health care and telehealth options could provide greater access to health care for businesses that may not have used it before, RA News reported in April. Because of the pandemic, companies may find those options helpful when it comes to reopening. 
An appointment over a smartphone can help more than just a single employee, Dr. Fite said.
"For patients who have symptoms of possible COVID, this is a way to screen them to see if they can be taken care of without coming into the office or emergency department," she said. "Telehealth is a way for patients to be seen who are worried about getting out and possibly being exposed to the coronavirus, or who are elderly or have diseases that mean they should try to avoid going out at all," Dr. Fite explained.
"Also, if an office or other facility does not have enough PPE (personal protective equipment), this is another way to save on that equipment. So there are many instances where telehealth is a good substitute for an in-person visit."
Companies can work with insurance companies to make sure telehealth appointments are available.
"Employers could play a role in increasing access also, specifically by working with their insurance providers to make sure telehealth services are covered and publicized. We hope expanded telehealth services will continue to be available in the future," wrote Kanaka Sathasivan, director of communications at the Texas Nurses Association.
Hygiene Help
Fever, dry cough and fatigue are the most common symptoms of the coronavirus disease, according to the World Health Organization, but many other symptoms also can happen, and the list keeps growing. Plus, some people can have the virus without showing symptoms. 
Here are practical steps employers can take.
"Employers can best support their employees by providing education on basic hygiene, including handwashing signs with instructions. Employees who wear gloves and masks need to remember that gloves still spread germs the same way unwashed hands do and should learn how to properly put on and remove masks," Kanaka Sathasivan, director of communications for the Texas Nurses Association wrote Thursday. "Employers can help by providing hand sanitizer to use in between handwashing."
For Health Care Workers
Health care workers could use support from their employers.
"While the Families First Coronavirus Response Act allows employers to choose not to provide paid sick leave to health care providers, Texas Nurses Association urges all Texas employers to provide paid sick leave in addition to PTO. Nurses are on the frontlines of this pandemic every day, and they need to be able to take time to recover, avoid patient interactions, and improve their mental wellbeing without worrying about financial pressures, feeding their families, or paying their bills. When nurses are healthy, they can better take care of patients."
Paid sick leave is important, Sathasivan said.
"Texas Nurses Association urges all Texas employers to provide paid sick leave in addition to PTO, even if they do not fall under the Families First Coronavirus Response Act guidelines."
New Advantages, Responsibilities
For some, working from home has actually meant being more focused and efficient, The New York Times reported. 
Commutes have been gone, leaving time to get things done.
Zoom conference calls have led to thinking about what the priorities are and which things should be handled in meetings and which could be emails.
For more advice on establishing a new normal, consider the advice in this Forbes article published Thursday. It includes guidance from the Centers for Disease Control and Prevention, the Equal Employment Opportunity Commission and the Occupational Safety and Health Act.