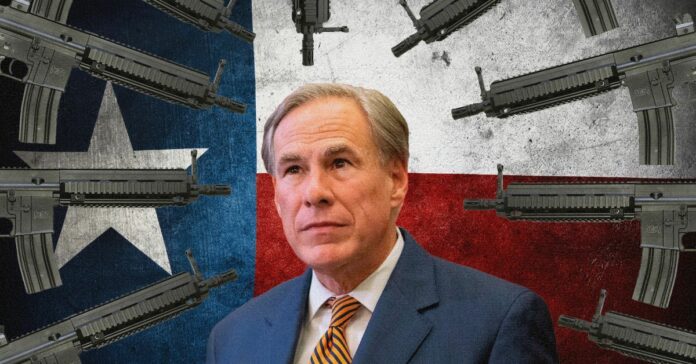 There have already been more than 100 mass shootings in the U.S. this year alone. But the GOP has steered away from gunpowder to focus their attention on glitter and sequins.

On Monday, a tragic shooting at the Covenant School in Nashville, Tennessee claimed the lives of six people, including three young children. While details are still emerging, early reports have identified the 28-year-old shooter as a transgender person. Almost immediately, individuals began to point fingers at the transgender community, blaming them in general for the mass shooting, as reported by Vice News.

Conservatives like U.S. Representative Marjorie Taylor Greene and Fox News presenter Tucker Carlson, used this tragic event to further stigmatize and vilify transgender individuals. A narrative that serves only to distract from the real issue at hand: the epidemic of gun violence in the United States.

"How much hormones like testosterone and medications for mental illness was the transgender Nashville school shooter taking?" Marjorie Taylor Greene tweeted on Monday. "Everyone can stop blaming guns now."

Right-wing figures have even started to coin the term "trans terrorism" and linking hormone replacement therapy to violent behavior. A harmless and baseless rhetoric, since this treatment is life-saving and affirming for many trans people.

In reality, only a handful of shootings out of hundreds across the country have involved a person who identifies as trans, and 98 percent of mass public shooters are men, according to the Violence Project.

500 Anti-trans Bills

On the heels of yet another school shooting, Tennessee, politicians are maintaining and pushing for less strict gun regulations; right now, anyone over 21 doesn't need a permit to carry a handgun, and background checks aren't required to own a handgun. Meanwhile, they made history, being the first state to pass a drag ban.

The discrimination and prejudice against the LGBTQ+ community is unfortunately not limited to just Tennessee, but rather a widespread issue across the entire nation. In 2023 alone, GOP lawmakers across the U.S. have introduced nearly 500 anti-trans bills, a record-breaking number, according to Vice News.

Texas, which has a distressing record of mass shootings, is making more efforts to further marginalize and oppress the LGBTQ+ community than it is to pass gun reform policies.

This is the first session since the massacre in Uvalde, in which an 18-year-old legally purchased an assault rifle, entered Robb Elementary School and killed 19 children and two adults. Since then, there has been an enormous push for gun reform policies, especially raising the minimum age to purchase a firearm to 21.

But, in Republican-controlled legislation, gun reform or restrictions on firearms access are unlikely to pass. Gov. Abbott has decided to focus on mental health and school safety rather than gun reform.

The bill that appears most likely to pass at this point is House Bill 3, filed by Lubbock Republican Representative Dustin Burrows. If passed, HB 3 would allocate nearly $300 million over the next two years to go toward school safety provisions like school resource officers, building infrastructure for emergencies, and safety drills and preparedness.

What's less likely to be approved are greater restrictions on firearms, like the ones proposed by Senator Roland Gutierrez, whose district includes Uvalde. As of publication, none of Sen. Guitierrez's bills have been scheduled for a public hearing.

On Tuesday, Sen. Gutierrez, joined by families of the Uvalde and Santa Fe mass shootings, showed up to the Texas Capitol, to protest the lack of action on the series of gun safety bills the Senator has filed – "21 bills for 21 lives."

"Lt. Gov. Patrick & his Republican underlings right now are living in a fantasy land… We had a Senator right here say we're gonna protect the kids from drag queens, and drag queens shows. Never mind that they're not doing anything to protect the kids that are being killed in our classrooms, that are being shot in our schools, that are being shot in our neighborhoods, that are shooting themselves by accident. " Guiterrez said addressing other lawmakers.

"Gun violence is the number one cause of death of kids in this nation, and there is nothing being done in this building."
In 2020, the most recent year for which complete data is available, 45,222 people died from gun-related injuries in the U.S., according to the CDC. Meanwhile, zero people have died whilst attending a drag queen show – unless you count the Club Q incident in Colorado Springs, which left five people dead, but not because of the drag performance going on that night. The hate crime was committed due to a gunman who targeted that venue for hosting drag performances and "all-ages drag brunches."

Loosey Goosey

Ever since the start of his career, Abbott has overseen legislative changes to allow Texans even greater firearm freedom. In just the seven years that he has served as governor, dozens of people have been killed in mass shootings across the state, and not much has been done to tighten the state's gun laws, on the contrary, they remain the least restrictive in the United States.
Abbott has witnessed six mass shootings during his two terms and has not used his executive powers to champion ways to reduce gun violence. He prefers to blame the carnage on "madmen" and focuses his attention on mental health and security, instead of the easy-to-access assault weapons.

Track Record
2016: In his first term, Abbott paved the way for an "open carry" law, that allows licensed Texans to tote their handguns in public, and "campus carry," extending those permissions to colleges.

2017: 26 congregants were killed at a Baptist church in Southern Texas.

Abbott declared: the best way to prevent mass shootings was "by using the forces of God".

2018: A 17-year-old gunman opened fire and killed 10 students at a Santa Fe high school.

Abbott called for prayer, but also discussed expanding background checks, banning assault weapons, and passing "red flag laws."
2019: After those two mass shootings where 36 people died, lawmakers passed legislation to bolster the number of school marshals and to increase mental health resources. They also passed a law allowing people to carry guns at places of worship, as reported by the Fort Worth Star-Telegram.

None of those laws restricted access to guns.
2019: A gunman killed 22 people at a Walmart in El Paso and another killed seven others and wounded at least 21 more in Midland-Odessa .

Abbott announced two task forces: The Texas Safety Commission and the Domestic Terrorism Task Force. He also issued a Texas Safety Action Report that included background checks for private gun sales.

Those proposals didn't make it into law.

2021: Last year, Abbott relaxed open carry rules even further. The legislature passed into law a "constitutional carry" bill that now means anyone in Texas over the age of 21 can carry a handgun without a permit.

"You could say that I signed into law today some laws that protect gun rights," he said at the bill signing.

"But today, I signed documents that instilled freedom in the Lone Star state."

2022: A gunman killed 19 elementary school children and their two teachers in Uvalde.

Although the gunman who killed 21 people had no known history of mental illness, Abbott believed that the area near the school lacked sufficient access to mental health care.

"We as a state, we as a society, need to do a better job with mental health," he said.

The families from Uvalde pleaded for Abbott to grant their wishes to make 21 the minimum age to purchase combat-style rifles. The governor, however, remained unwilling to reconsider any restrictions on gun purchases.

There was no special session after Uvalde, and Abbott's priority for the session is addressing school safety rather than gun regulations.
To learn more about gun violence in Texas, visit the RA News Gun Violence Watch page.