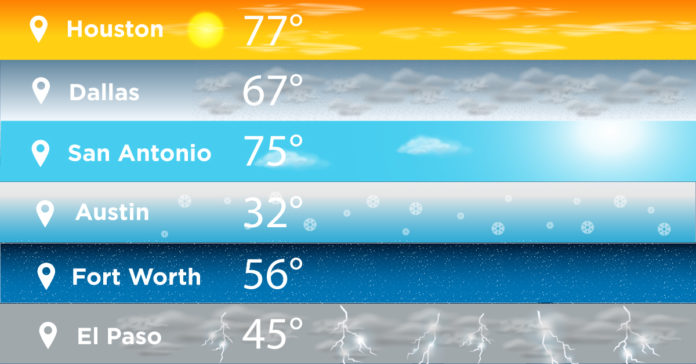 Texas Thanksgiving weather 2019 will break tradition and be pleasant. Residents of Dallas can expect highs in the low 60s and overnight temps in the low 40s.

In Houston, temperatures will be in the mid-60s with overnight lows dipping into the high-40s. In San Antonio, Thanksgiving weather will be high-60s in the day and mid-40s overnight.

Anyone visiting Austin for Thanksgiving can expect mid to high-60s during the day and low to mid-40s overnight. Of course, all that could change.

As anyone in Texas knows, the weather can change in a matter of hours. In October 2018, a Blue Norther blew in and dropped the temperature in Austin almost 45 degrees overnight.

Texas is also known for its massive reactions to storm fronts. In December 2015, one front spawned a blizzard warning in the Panhandle, a tornado watch in Dallas, a flash flood watch in Tyler and a winter storm warning in El Paso.

It's common for people from the northern parts of the country to think of Texas as a land without a winter. Although Texans might point to #AyDiosFrio18 (when the temperature in San Antonio dipped to 20 degrees) and the Great Winter of January 6-8, 2017 to show it can get cold in most of the state.
The old joke about Texas is if you don't like the weather, just wait five minutes. However, it's not even necessary to wait. There've been days where Amarillo is freezing and McAllen is boiling.
Texas Thanksgiving weather 2019 could always change. Just remember it's Texas, be prepared to dress for all of the seasons all of the time.