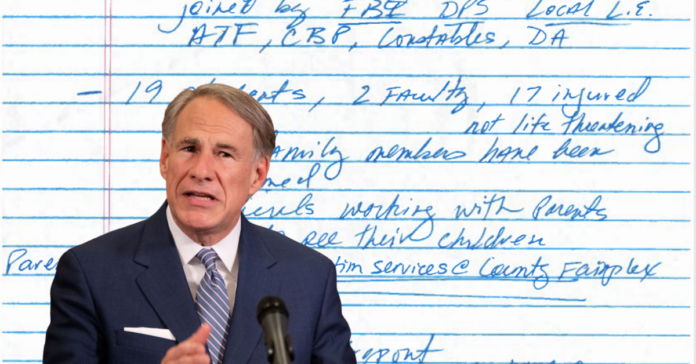 Handwritten notes taken by Texas Gov. Greg Abbott, taken as law enforcement officers briefed him on the Uvalde school shooting, exposed a different reality than the one he initially disclosed in news conferences on May 25th.

Which begs the question: Was he truly misled by Uvalde officials or did he conveniently bend the truth to his benefit?

The police heroism Abbott painted was a clear facade, for a massacre that was plagued with incompetent decisions. From faulty radios and missing keys to police officers who hung out in the hallway for more than 40 minutes while kids and teachers pleaded for help.

While much of Abbott's May 25 remarks are quite similar to the nine pages of notes obtained by the American-Statesman through the Texas Public Information Act, the Governor steered from his script during his opening comments to compliment law enforcement's response.

"They showed amazing courage by running toward gunfire for the singular purpose of trying to save lives," he said at a news conference that was broadcast on national cable news networks and streamed online.
"And it is a fact that because of their quick response, getting on the scene, being able to respond to the gunman and eliminate the gunman, they were able to save lives," Abbott continued.
While most of the details remain murky, after looking at Abbott's notes, one thing is certain: he did not note down specific time references or mention the pace at which the events on May 24 unfolded. 

According to the notes, they say that law enforcement "engaged" the shooter and that officers from multiple agencies "converged" on the classroom, that three officers were wounded, and that a Border Patrol agent fired the fatal shot at the gunman.

Later on, a timeline provided by Texas Department of Public Safety officials revealed that officers waited more than 70 minutes before confronting the gunman — while children inside the classroom were frantically calling 911.

The governor tried to defend his initial statement by claiming he merely repeated what he was told, and said he was "livid" about being "misled." 
"I wrote down hand notes in detail about what everybody in that room told me in sequential order about what happened. And when I came out here on this stage and told the public what happened, it was a recitation of what people in that room told me," Abbott said.

As more details unfold, the narrative of Texas' deadliest massacre continues to shift for the worse. It is unclear how many lives might have been saved had the police swiftly stopped the shooter when they first arrived at Robb Elementary School.