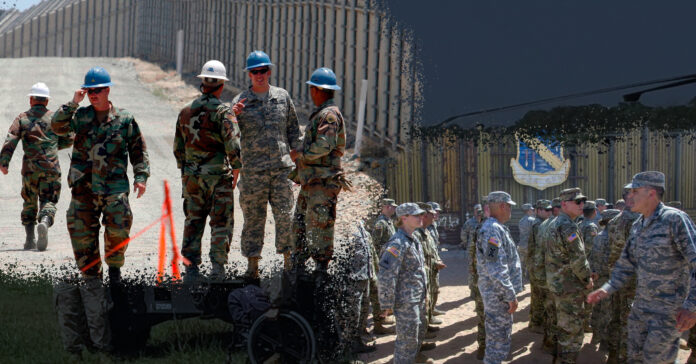 In what is sure to be only the first shot fired in the Republican primary for Texas governor, former Florida congressman Allen West has leveled accusations at Governor Greg Abbott that Abbott has put the Texas Army National Guard at severe risk on the southern border.
The allegation comes at a time of definite crises for the guard. Morale among the guard serving in Operation Lone Star is low enough that substance abuse, desertions, and suicide are starting to become a serious problem according to the army itself. This is likely related to the dismal nature of the operation itself. Lone Star is largely seen as a needless, racist initiative from Abbott as a ploy to show he is tough on border security. In reality, it's become a meat grinder of false arrests and harassment that is overwhelming the Texas criminal justice system.
West announced in a news conference that guardsmen had been in contact with him over working conditions. Among other things, he cited late or missing pay, lack of supplies, and exposure to COVID-19 threats the guard is experiencing.
"This falls squarely on the shoulders of the person that ordered the commencement of Operation Lone Star and that's you, Gov. Abbott," West said.
Abbott's office responded by punting the problem into the hands of the Biden Administration.
"Since Governor Abbott launched Operation Lone Star in March, National Guard soldiers and DPS troopers have apprehended over 85,000 migrants, arrested over 9,600 who committed a border-related crime, including smugglers and human traffickers, seized over 208 million lethal doses of fentanyl, and erected strategic barriers to stem the flow of illegal immigration," said a spokesman in a recent statement. "Texas is beyond grateful for the brave men and women of the National Guard and DPS who are diligently and selflessly securing the border in the federal government's absence. We continue working with service leaders to ensure all who are deployed in Texas and overseas have the support they need to keep forging ahead and serve our great state and our nation."
The conservative infighting brings up some interesting contradictions. West says that Abbott is responsible for the rise in COVID among the guard. It's true that Abbott is planning on suing the Biden Administration over the president's vaccine mandate for armed service members, which does endanger troops when it comes to the virus.
However, West is a noted conspiracy theorist and known for peddling various flavors of hogwash. He firmly stands against any sort of vaccine mandate, just as the governor he is criticizing does. He's continuously doubled down on anti0vaccination rhetoric, even after contracting the disease himself.
"Instead of jabbing Americans, and not illegal immigrants, with a dangerous shot which injects them with these spike proteins . . . guess what? I now have natural immunity and double the antibodies, and that's science," West tweeted.
So, while West's concern for the guard's safety is well-founded, it's weird that he is blasting Abbott for COVID-spreading policies he himself endorses.